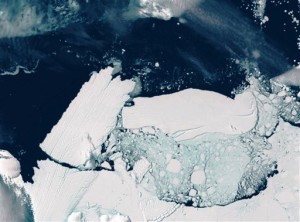 An iceberg about the size of Luxembourg that struck a glacier off Antarctica and dislodged another massive block of ice could lower the levels of oxygen in the world's oceans, Australian and French scientists said Friday.
The two icebergs are now drifting together about 62 to 93 miles (100 to 150 kilometers) off Antarctica following the collision on Feb. 12 or 13, said Australian Antarctic Division glaciologist Neal Young.
"It gave it a pretty big nudge," Young said of the 60-mile (97-kilometer) -long iceberg that collided with the giant floating Mertz Glacier and shaved off a new iceberg. "They are now floating right next to each other."
The new iceberg is 48 miles (78 kilometers) long and about 24 miles (39 kilometers) wide and holds roughly the equivalent of a fifth of the world's annual total water usage, Young told The Associated Press. NPR
This error message is only visible to WordPress admins
Error: No connected account.
Please go to the Instagram Feed settings page to connect an account.