6 of hit squad suspected of killing Hamas man 'had UK passports'
Six members of an 11-strong hit squad suspected of killing a senior Hamas military commander in Dubai entered the country using British passports, police said last night.
Mahmoud al-Mabhouh, 49, was killed on 20 January in his hotel room, hours after arriving in the state. Last month Hamas claimed Israeli agents assassinated Mabhouh, who was wanted for the killing of two Israeli soldiers in 1989.
Lieutenant General Dhahi Khalfan Tamim, Dubai's chief of police, said yesterday that 11 people, including one woman, were wanted over the killing. He said all suspects had European passports. In addition to the six British passport holders, three were carrying Irish passports and the two others were from France and Germany, Tamim said. guardian.co.uk / Telegraph.uk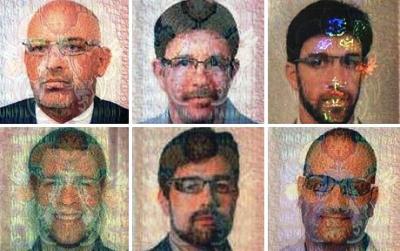 Suspects wanted in connection with the killing of Mahmoud al-Mabhouh, clockwise from top left : Michael Lawrence Barney, James Leonard Clarke, Stephen Daniel Hodes, Paul John Keeley, Melvyn Adam Mildiner Photo: AP
Update: Passports fake, say UK and Ireland
The British and Irish governments have said that passports belonging to the alleged killers of a top Hamas official are fake.
Ireland said the names Gail Folliard, Evan Dennings and Kevin Daveron, and their passport numbers, did not match anything issued by its officials.
Britain said it believed six British passports were also fakes. BBC
In Dubai Tamim told reporters that security camera video obtained by his investigators showed the team at work in Dubai in the hours leading up to the assassination in a luxury hotel last month.
On Tuesday, a newspaper Web site in Dubai published the video released by the authorities, which appears to show the suspects following the Hamas official, Mahmoud al-Mabhouh