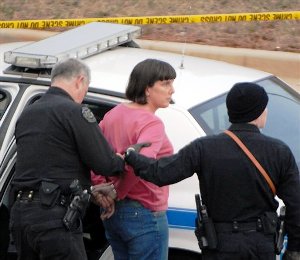 A Harvard-educated biology professor has been charged with capital murder after the shooting deaths of three faculty members at the University of Alabama in Huntsville, authorities said Saturday.
Huntsville Police Chief Henry Reyes said Dr. Amy Bishop Anderson, 45, was attending a faculty meeting on the third floor of the sciences building Friday afternoon when she shot six colleagues, killing three: Gopi K. Podila, chair of the Department of Biological Sciences, and two other faculty members, Maria Ragland Davis and Adriel Johnson.
Anderson, a professor and researcher at the university, was arrested as she was leaving the building, Reyes told reporters Saturday. He said a 9 mm handgun was recovered from the second floor of the building late Friday.
Anderson is charged with one count of capital murder, a crime that involved two or more intentional deaths and is eligible for the death penalty in Alabama. Madison County District Attorney Rob Broussard said officials were considering other charges, including attempted murder.
The suspect had recently been informed that she would not receive tenure at the university. CNN
Photo: Amy Bishop Anderson is taken into custody by Huntsville, Ala. police