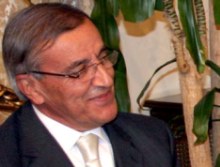 Lebanon's Minister of Foreign Affairs and Expatriate Ali Al-Shami said "about one and a half million expatriate Lebanese are registered to vote . He said that he is working on setting up a technical committee to work out the logistics in order for them to participate in the Lebanese electoral process
Shami, in an interview with NBN TV talked about the controversial issue of Lebanese participation at the Arab summit in Libya and said "We are committed to the decision of the government authorities on this matter , but since we consider there has been a long delay in settling the case of Sayyed Moussa Al-Sadr , my own personal position is similar to that of speaker Nabih Berri if not exactly identical .
Both Speaker Berri and Deputy Head of the Higher Islamic Shiite Council Sheikh Abdul Amir Qabalan called for boycotting the summit in Libya.