Syria again holds upper hand in Lebanon-Analysis
Syria regains strength in Lebanon, without troop presence, Syria's ally Hezbollah and Saudi, Western rapprochement with Syria sealed new reality.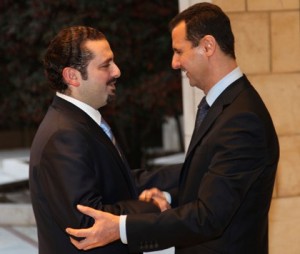 By Alistair Lyon, Reuters
Slowly but surely, Syria has regained influence in Lebanon, but wields it more diplomatically than in the era before the slaying of Lebanese statesman Rafik al-Hariri five years ago led to a humiliating Syrian troop exit.
A Lebanese, Arab and Western outcry over the Sunni Muslim leader's assassination on Feb. 14, 2005 forced Syria to relax its grip on its weaker neighbour. But it kept powerful friends there, notably the Iranian-backed Shi'ite Hezbollah movement.
Just as Syria has rebuilt its sway in Lebanon, with a green light from Hariri's regional ally Saudi Arabia, it has recovered its standing abroad, shrugging off Western efforts to isolate it and developing strong new ties with Turkey, a former enemy.
Even the United States, which had led efforts to ostracise Syria, is about to send an ambassador to Damascus for the first time since withdrawing its envoy after Hariri's death.
Yet the days when a Syrian intelligence chief in Lebanon gave peremptory orders to local politicians are over for now.
"There was not even the pretence of diplomacy and dignity," recalled Karim Makdisi, who teaches international relations at the American University of Beirut, referring to Syrian behaviour in the years after Lebanon's 15-year civil war ended in 1990.
"It's not so much that Lebanon is now a sovereign country," he said, but a more normal relationship had been restored.
Symbols of this change abound.
Syria and Lebanon have opened embassies in each other's capitals for the first time — Damascus had been ambivalent about Lebanon's independence since the 1940s.
Even more striking was a visit to Damascus in December by Prime Minister Saad al-Hariri, who had previously said Syria was behind his father's assassination and several later killings of Lebanese foes of Syrian influence. Despite the bad blood, his talks with President Bashar al-Assad were apparently cordial.
The younger Hariri became prime minister after his Western- and Saudi-backed coalition narrowly won a June election against Hezbollah and other Syrian allies. But he heads a national unity government in which the minority enjoys significant power.
SHIFTING GROUND
Lebanese politicians who had hoped the United States, France and Saudi Arabia would block any Syrian interference after the last Syrian troops left in April 2005 have trimmed their sails.
Druze leader Walid Jumblatt, once one of Syria's fieriest critics, left the Hariri-led coalition last year to take a more centrist stance — and is expected to visit Damascus soon.
For Marwan Hamadeh, a Jumblatt aide who survived an attempt on his life in October 2004, the new relationship with Syria stops short of genuine reconciliation and cannot obstruct an international tribunal formed to prosecute Hariri's killers.
"I wouldn't say the Syrians are back," he told Reuters. "In political and intelligence terms they never left.
Syria's overt hegemony has faded, but finds a subtler form via the veto power its allies hold in the Beirut cabinet.
That effective veto was enshrined in a Lebanese political deal struck in Qatar after pro-Hezbollah fighters briefly seized much of Beirut in May 2008 in a decisive show of force.
Saudi Arabia then buried its quarrel with Syria, hoping to stabilise Lebanon, calm regional Sunni-Shi'ite tensions, restore a semblance of Arab harmony and loosen Syria's bonds with Iran.
Most Lebanese politicians now clear their lines with Syria.
President Michel Suleiman, a former army commander, holds a weekly call with Assad. Hariri has spoken by telephone to the Syrian leader several times since his trip to Damascus.
SYRIAN-SAUDI TUNE
"Once the Syrians and Saudis got together, local politicians would always have to dance to their music," said Makdisi.
Anti-Syrian politicians had to compromise because they had realised that Lebanon was "not the centre of the universe" and Western leaders would not come to their rescue, he added.
Syria sees its influence in Lebanon as a trump card in any negotiations with the West and Israel, Hamadeh said.
The West still wanted to keep Lebanon from coming under Syria's thumb again. "But everything in this world is now relative, especially independence and sovereignty," he shrugged.
The Syrians may seek to avoid the high-handedness of the past — even Assad acknowledged last year in an interview with Beirut's as-Safir newspaper that "mistakes" had been made.
But progress could be slow on measures that Hariri sees as vital to reinforce a normal state-to-state relationship.
These include demarcation of the Syrian-Lebanese border, removal of Palestinian guerrilla bases that straddle it, reform of bilateral treaties and information about missing Lebanese said to have fallen foul of the Syrians during the civil war.
Hariri no longer publicly accuses Syria of orchestrating the huge seafront bomb blast that killed his father and 22 others, saying he will await the outcome of the U.N.-backed tribunal.
Investigators initially implicated Syrian and Lebanese security officials, but the tribunal has yet to indict any suspects and critics say it appears to have lost momentum.
Lebanese commentator Michael Young said the United States and France, both hostile to Syria at the time, had spearheaded efforts to set up the tribunal, but now had other priorities.
"Today there is no critical mass to see the tribunal accuse Syria or anybody else. For many in the international community, the tribunal is more a headache than anything else," he argued.
Makdisi, the academic, said the tribunal had a life of its own, but might never uncover the truth behind Hariri's killing.
Citing the multitude of unpunished killings committed during and after Lebanon's civil war, he said: "You can most likely put this down as yet another unsolved murder."