Italian embassy in Tehran attacked by pro-regime mob
Italy will boycott celebrations marking the 31st anniversary of the Islamic revolution in Tehran on Thursday to send a message of concern over attacks on the Italian embassy there. 
Italian Foreign Minister Franco Frattini said the embassy was attacked by dozens of people throwing stones. Attackers included pro-Iranian government militia members dressed in civilian clothing.
The protests were reportedly in response to Italian Prime Minister Silvio Berlusconi's call for strengthening of sanctions against Iran over its nuclear program. allheadlinenews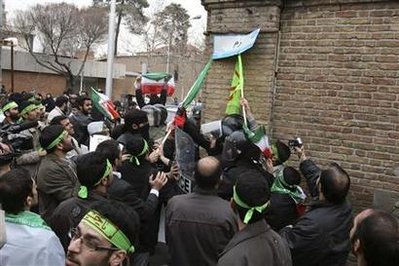 Iranian pro-regime demonstrators tear down a street sign named "Rome", during a demonstration outside the Italian embassy in Tehran February 9, 2010.