STL president: Hariri's murder case is 'highly complex'
The President of the Special Tribunal for Lebanon ( STL) , Judge Antonio Cassese, and the Vice-President, Judge Ralph Riachy concluded their visit to Lebanon today. In a press release they expressed their profound gratitude to the Lebanese political, judicial and academic authorities for the warm welcome extended to them during their visit and for the continued support for the Tribunal.
Judge Cassese said on Friday there were "no deadlines" in issuing indictments in the case, calling the case "highly complex".
"All acts of terrorism are much more complicated than war crimes, crimes against humanity and genocide," Judge Cassese told AFP
"We cannot set deadlines," he added.
Cassese, who arrived in Lebanon on Monday on a week-long visit, said that unlike other crimes, political assassinations were harder to crack given the layers of secrecy involved.
"Terrorist acts involve secret cells. There's no clear chain of command or hierarchy," he said. "Most of the time those involved will not confess because they risk being killed by their accomplices."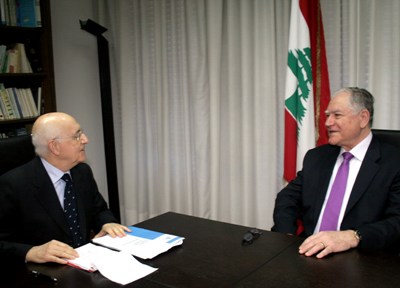 President of the Special Tribunal for Lebanon ( STL) , Judge Antonio Cassese (L) and Lebanese Justice Minister Ibrahim Najjar