Tribunal chief in Lebanon to meet with key officials
The president of UN's STL (Special Tribunal for Lebanon , set up to try the murders of former Lebanese premier Rafik Hariri ) met on Monday President Michel Suleiman and other officials on his first visit to Lebanon.
Tribunal chief Judge Antonio Cassese briefed Suleiman "on the progress the tribunal has made and the steps planned for the next phase of the investigation," a statement released by Suleiman's office said.
Cassese and his deputy, Ralph Riachy, also met Foreign Minister Ali Shami and Justice Minister Ibrahim Najjar and were scheduled to meet parliament speaker Nabih Berri during their week-long visit.
Cassese and Riachy will not reportedly meet with Prime Minister Saad Hariri, or Defense Minister Elias Murr "because of the personal link they have with the cases and in order to preserve the tribunal's impartiality" , according to Cassese's office .
Former head of the General Security Department Maj. Gen. Jamil Sayyed called on Cassese to restore public trust in the Lebanese court. Sayyed , who was a suspect in the Hariri assassination was released from jail last April along with 3 other generals for insufficient evidence .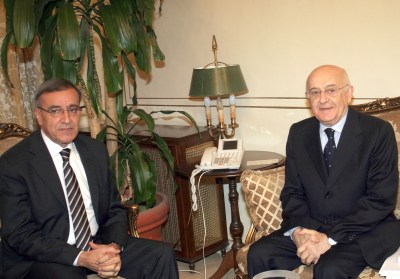 Lebanon's Foreign Minister Ali Shami ( L) with visiting Tribunal chief Judge Antonio Cassese