From Montana to Beirut
Erin Cole, a student at the University of Montana, visited Lebanon for the first time over winter break.
Erin Cole, a student at the University of Montana, visited Lebanon for the first time over winter break.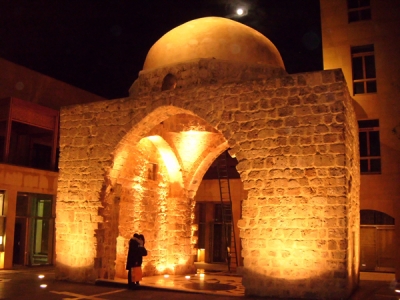 By Erin Cole
Upon hearing fireworks explode on New Year's Eve, I wanted to step onto the balcony for a better view. My boyfriend's mother, however, warned me to stay inside. I then realized the firework detonation was coupled with enthusiastic machine gun fire. Some Lebanese habits die hard.
Situated on the eastern end of the Mediterranean, Lebanon could fit into Montana 36 times, yet it contains over four times as many people. From 1975 to 1990, civil war engulfed the country, with most of the fighting concentrated in Beirut. While pock-marked buildings still bear testament to the war, much of the city has put on a fresh coat of paint. Once known as "the Paris of the Middle East," Beirut is eager for a renaissance.
From outward appearances, this new age has arrived. When looking at the demeanor and appearance of most of the residents, it is hard to imagine the city in the throes of war. Drivers steer luxury cars through crowded streets lined with expensive shops. Signs everywhere indicate a new residential tower is soon to materialize; the new is swallowing the old. Christians and Muslims worship next door to one another.
Heidi Montag would feel at home in Beirut, where plastic surgery is big business. We saw four women with freshly bandaged noses. Ex-patriates often return for bargains on liposuction and breast augmentation. This focus on perfection does come at a cost — my boyfriend's slender 18-year-old sister thinks she is fat.
Vestiges of the old souks remain, but they are being replaced with modern malls that look and smell American. Western brands flourish and luxury items are coveted. Much like New York's Canal Street, some store windows are choked with counterfeit goods. I discovered "Made in India" stickers beneath the price tags of some "Lebanese" souvenirs.
In the middle of a geographical region that frowns upon alcohol, Lebanon boasts an ever-expanding array of bars and clubs. Four drinks can easily set you back $100. One can also visit "super night clubs" which are strip clubs. This combination makes Beirut a Las Vegas of the Middle East. Coupled with its beaches and greenery, Lebanon is a popular tourist destination for the region.
Most Lebanese, however, do not appreciate being lumped in with the Middle East. Rather, they view themselves as Mediterranean. The sparkling sea borders the country, lending it a unique history, cuisine and geography.
Lebanon is home to many culinary delights, among them raw meat. At breakfast one morning, I sampled raw liver, while another night at dinner, raw ground lamb was served. Pizza, meanwhile, is served with ketchup packets.
In a city ruled by the French until 1943, Beirut's second language has become English. So while the city is easy to linguistically navigate, some culture shock is unavoidable.
Upon our arrival at the airport, I spotted my first UN vehicle. On our way into the city we passed through a soldier checkpoint. The military is everywhere and active tanks watch over the streets.
To foreign eyes, areas of Beirut resemble a mass of haphazardly stacked Jenga blocks. Cats dart through downtown streets, hoping for scraps from outdoor diners.
Traffic queuing is not a Lebanese strength. Four or five lanes of vehicles routinely navigate roads designed to hold three. On one busy street, I watched a car scrape against a new Jaguar, leaving behind a discernable scratch and an angry driver.
My boyfriend and I took some out-of-the ordinary sightseeing trips. We drove into the mountains to visit Ehden, the town where my boyfriend's mother and sisters lived during the 2006 war with Israel. Later, we made a house call on my boyfriend's ultra-conservative uncle. I had been told that I would be introduced as my boyfriend's fiancée. When the time actually came and we were settled in the drawing room with slices of chocolate cake, I was upgraded and introduced as his new wife.
While we were in Lebanon, Umar Farouk Abdulmutallab boarded a plane bound from Amsterdam to Detroit, intending to carry out a terrorist attack. Luckily he failed. We were also Detroit bound on our return trip, and Lebanon was placed on special list for intensified security checks. At a German airport, we were pulled aside on the jetway before our flight to have our checked and carry-on luggage searched by hand. My boyfriend was quizzed at length about his Arabic books, but we were allowed to board.
Perhaps Beirut is ready to snatch its crown back from Dubai. Unlike the United Arab Emirate city-state, Lebanon didn't need bailing out last year. In fact, thanks to strict banking regulations, the country has largely escaped the global recession. Recent conflict with Israel has simmered to a battle over who can make the biggest vat of hummus.
Tensions haven't completely dissipated, though. Hundreds of thousands of displaced Palestinian refugees make their homes here. Hezbollah remains active, and the government is still trying to find its balance. Yet, as the fireworks and machine gun fire proved on New Year's Eve, the country has much to celebrate.
Source: Montana Kaimin