Israel: Druze MK Said Naffaa stripped of his immunity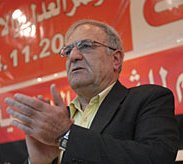 Israel's Knesset House Committee Tuesday overwhelmingly rejected an appeal by Druze MK Said Naffaa for immunity in the face of an indictment that charges him with visiting Syria, an enemy state, and meeting with Palestinian militant organizations, according to Israeli media
In a 9-2 vote by the Knesset Committee on Tuesday MK Naffaa was stripped of his immunity. MK Naffaa accused the government institutions of racism and exploiting the Druze community.
"I was not surprised by the decision," Naffaa said. "This is indicative of the discrimination and political persecution faced by Arab Knesset members." He told AFP.
Naffaa vowed to continue to fight the charges. "This is only the first stage of what will be a long battle," he added.
MK Naffaa, who is a Druze Palestinian Arab , was charged in December with visiting Syria without permission and meeting with militant organizations.The lawmaker had organized a visit of 300 Druze religious leaders to Syria in September 2007.
MK Nafaa reportedly met with Talal Naji, deputy secretary-general of the Popular Front for the Liberation of Palestine.