Lebanon, France sign five agreements
Lebanon and France signed Thursday five cooperation agreements in presence of Prime Minister Saad Hariri and his French counterpart François Fillon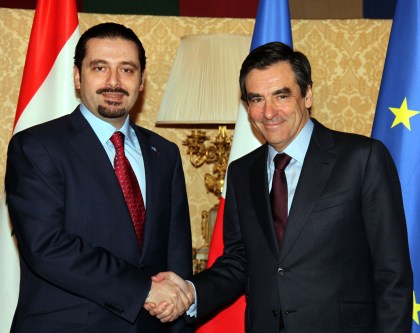 Lebanon and France signed Thursday five cooperation agreements in presence of Prime Minister Saad Hariri and his French counterpart François Fillon.
At a joint press conference Fillon said :" France supports Lebanon which has an essential role in developing the region and in its peace process." He conveyed "France's support for the Special Tribunal for Lebanon and bringing the criminals to justice."
Fillon urged full commitment to UNSCR 1701 by the Israeli and Lebanese sides
Fillon was elated when Hariri told him that the agreements signed today are the first agreements he signs with a Western country as a PM . " This proves the depth of our relationship with Lebanon", Fillon said
Commenting on Syrian Lebanese relations Fillon said " Naturalizing the relations between Lebanon and Syria, is surely a stabilizing factor and especially when the issues of border demarcation and missing Lebanese (in Syria ) are resolved.
Hariri responded by thanking PM Fillon for France's support for Lebanon.
He said he is committed to preserving stability, calm, and democracy and pledged full commitment to the implementation of 1701 UN resolution but called for an end to Israeli violations UN resolutions.
He said that Lebanon is committed to administrative, economic and social reform.
He said Lebanon like the result of the Arab countries want peace. "We want the [kind of] peace that would allow Arabs to liberate their [occupied] territories in the Shebaa Farms, Ghajar Village and the Golan Heights. We want this peace to establish a state for the Palestinians. We want a peace whereby the Palestinian refugees in Lebanon and Syria could return to their homeland. "