U.S. Middle East envoy George Mitchell says Lebanon is key to regional peace.
He was in Beirut on Tuesday and Wednesday at the start of a regional tour aimed at restarting Middle East peace talks.
Mitchell's visit is part of a U.S. effort to forge a wider peace that would end Israel's conflicts with the Palestinians, Syria and Lebanon and normalize Israel's ties with the rest of the Arab world.
In a statement, Mitchell said Lebanon would play a key role in the effort to build a lasting and comprehensive peace and stability in the Middle East. AP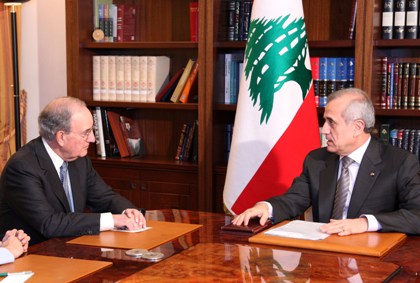 U.S. Middle East envoy George Mitchell ( L) with Lebanese President Michel Suleiman at the Baabda Palace Wednesday Jan. 20, 2010