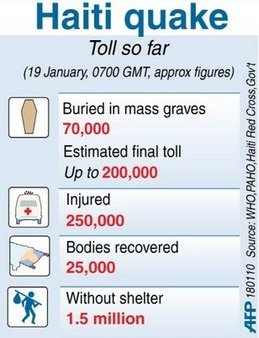 By Ban Ki-moon
The disaster in Haiti shows once again that even amid the worst devastation, there is always hope.
I saw that this week in Port-au-Prince, where the United Nations suffered the single greatest loss of life in its history. Our headquarters in the Haitian capital is a mass of crushed concrete and tangled steel. Upon seeing it, I wondered: How could anyone survive? Yet moments after I left the scene on Sunday, rescue teams pulled out a survivor — who had been buried five days without food or water.
As I moved around the stricken city, I saw horrific images like those we have all seen on television: collapsed buildings; bodies in the streets; people in dire need of food, water and shelter. But I also saw people demonstrating extraordinary resilience despite having suffered the heaviest blows.
During my brief visit, I spoke with ordinary people to gauge their fears and concerns. A group of young men near the ruins of the presidential palace told me of wanting to help rebuild Haiti. Beyond the immediate crisis, they hope for jobs and a future with dignity. Across the street, I met a young mother who lives with her children in a tent in a public park. There were thousands like her, patiently enduring, helping one another as best they could. She and others had faith that help would soon come and that the international community would help Haiti rebuild — for their children and future generations.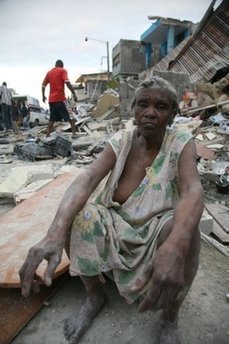 For those who have lost everything, help cannot come soon enough. But it is coming in growing amounts despite very difficult logistical challenges in a city where all services and capacity are gone. As of Monday morning, more than 40 international search-and-rescue teams with more than 1,700 staffers were at work. Water supplies are increasing; tents and temporary shelters are arriving in larger numbers. Badly damaged hospitals are beginning to function again, aided by international medical teams. Meanwhile, the World Food Program is working with the U.S. Army to distribute daily food rations to nearly 200,000 people. The agency expects to reach as many as 1 million in the coming weeks, building toward 2 million.
Aid has poured forth from nations and international organizations commensurate with the scale of this disaster. Our job is to channel that assistance. We need to make sure the help that is mobilized gets to the people who need it, as fast as possible. Ensuring that essential supplies do not sit in warehouses requires strong and effective coordination — the international community working as one, with the United Nations in the lead.
From the first day the United Nations has been working closely with the United States and the countries of Europe, Latin America and other regions as well as aid organizations to identify the most pressing humanitarian needs and deliver what is required. These needs must be grouped into well-defined "clusters," so that the efforts of the various organizations complement rather than duplicate one another. A health cluster run by the World Health Organization, for example, is organizing medical assistance among 21 international agencies.
The urgency of the moment naturally dominates our planning. But as President René Préval emphasized during my meeting with him, we must be thinking about tomorrow. Haiti, though desperately poor, had been making progress. It was enjoying a new stability; investors had returned. That will not be enough to rebuild the country as it was, nor is there any place for cosmetic improvements. We must help Haiti build back better, working with the government so that today's investments have lasting benefit, creating jobs and freeing Haitians from dependence on the world's generosity.
In this sense, Haiti's plight is a reminder of our wider responsibilities. A decade ago, the international community began a new century by agreeing to act to eliminate extreme poverty by 2015. Great strides have been made toward some of these ambitious "millennium goals," variously targeting core sources of global poverty and obstacles to development — from maternal health and education to managing infectious disease. Yet progress in other critical areas lags badly. We are very far from delivering on our promises of a better future for the world's poor.
As we rush to Haiti's aid, let us keep in mind this larger picture. Those people on the streets of Port-au-Prince asked for jobs, dignity and a better future. That is the hope of all the world's poor. Doing the right thing for Haiti in its hour of need will be a powerful message of hope for them as well.
The writer is secretary general of the United Nations.