Lebanon's Striking Wines
There are certain things that can ruin a winemaker's vintage, but not in Lebanon where you have gentle summers, wet winters and almost 300 days of sunshine a year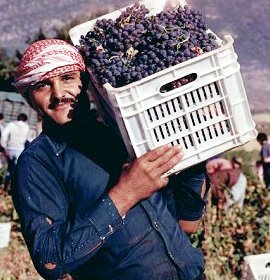 By WILL LYONS
There are certain things that can ruin a winemaker's vintage: heavy rain, hail, disease and rot. Few have to contend with stray rockets and shells. In the Bekaa Valley, the beautiful winemaking region that runs parallel to the Mediterranean between Damascus and Beirut, rain is the least of winemakers' problems. Vintage time has, more often than not, been completed against the background of aggressive local militias, Syrian tanks and stray rockets and shells.
While the Bekaa Valley has long, gentle summers, wet winters and almost 300 days of sunshine a year, it is also a theater of war, straddling the front line between the Syrian and Israeli forces during the 15-year civil war.
For Serge Hochar, producer of Château Musar and the region's most famous winemaker, the threat of war has always cast a shadow over his winemaking career. In 1983 shells and rockets reverberated around his winery and he had to be smuggled in by boat to make the wine. Six years later his house was on the receiving end of a shell and he was forced to turn his wine cellars into bomb shelters for his neighbors.
"My apartment in Beirut was coming under heavy bombing," he told me in an interview last year. "My neighbors were calling for me to come to the bomb shelter but I thought 'no.' I opened a bottle of Musar 1972, put it on my bedside table and every time a bomb shook the building I had a glass. That raid went on for 12 hours. I learned then that wine can help you face life."
In 1976 and 1984 he made no wine. Fans of Musar, which enjoys a cult following, were sympathetic but disappointed. Anyone who has ever tasted Chateau Musar will tell you it is one of the most exotic, wild and passionate wines on Earth.
For under €25 ($37.00) a bottle there are few other reds that stand comparison. Its flavour is extraordinary. The blend is predominantly Cabernet Sauvignon, Cinsaut and Carignan although Hochar has been known to add a little Grenache and Mourvedre in certain vintages. The result is a very individual wine.
I have followed this wine for more than 10 years. At best it takes on a sweet, balsamic, burnt flavour with an underlay of over-ripe cherries, sweet cedar and sour coffee. At worst it can be a little hollow, untempered, and taking on too much of a sweet spirity flavor. In some instances there is an unusual amount of volatile acidity which in certain bottles gives it a heavy nail-polish type flavor.
But these faults can be forgiven because to drink Lebanese wine is to drink a wine that has become part of the genetic landscape. Vineyards have been planted in this part of the world for more than 6,000 years in the shadow of Baalbeck, the home of the temple of Bacchus.
Mr. Hochar trained in Bordeaux, first under Professor Émile Peynaud before finishing his apprenticeship at Château Leoville-Barton. He scoured Europe for a decade to try and find another vineyard but for him the Lebanon was always home.
Such is the growing reputation of Lebanese wine that Mr. Hochar is no longer alone in straddling the international stage.
Château Massaya is one of the country's hippest wineries with a style reminiscent of the peppery, spicy notes found in the Rhone. The winery was founded in 1998 by Sami Ghosn, who decided to convert the family's weekend country house into a winery in the early 90s.
An architect by training, Mr. Ghosn teamed up with French experts Dominique Hèbrard, founding family of Château Cheval Blanc, Hubert de Boüard de Laforest of Château Angèlus and Daniel Brunier of Château Le Vieux Tèlègraphe.
These are wines that are very forward with plenty of ripe, upfront fruit. In many ways they remind me of the wines found in the South France.
Wine critics often argue the Musar story has been told too many times. I disagree. In a wine world increasingly dominated by homogonized brands, Hochar is one of the few characters left. WSJ