Information Minister Mitri briefed the press on cabinet meeting
Lebanon's Information Minister Tarek Mitri briefed the press on the cabinet meeting that took place Monday at the Baabda palace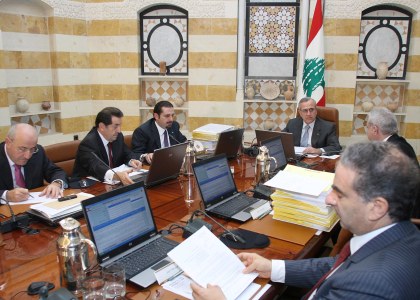 Lebanon's Information Minister Tarek Mitri briefed the press on the cabinet meeting that took place Monday at the Baabda palace:
President Michel Suleiman called on the cabinet members to make use of the achievements pertaining to trust-building between the Lebanese, with the expatriates and between Lebanon and Syria. He also stressed the need to build and reform the institutions as well as coordinating between them to ensure stability
Suleiman briefed the cabinet about the visit of Palestinian President Mahmoud Abbas to Lebanon . He said that Abbas stressed his country's respect for Lebanon's policy and his objection to Palestinian naturalization .
PM Saad Hariri briefed the cabinet on his recent trips to Saudi Arabia, Copenhagen and Syria and said that Saudi Arabia reiterated its support for Lebanon and its government, and played a role in his visit to Damascus.
Regarding his visit to Syria he said" it was characterized by clarity and honesty by both parties". He said that he discussed with Syrian President Bashar al Assad issues of interest to both countries and the need to improve the bilateral relations as well as the need to delineate the borders. Hariri said the results of of his Damascus visit will start showing up in the coming weeks.
Regarding his trip to Copenhagen [for the UN Climate Change Conference], Hariri said he met several officials including Russian president Dmitry Medvedev, who told him that Russia supports Lebanon and is willing to help arm the Lebanese Army to improve its capabilities
– The cabinet decided to subsidize fuel by 3000 LL ( $2.00) per 20 liters whenever the price exceeds 15000 LL ( $10.00) per 20 liters effective December 24.
The shooting at the Syrian bus was also discussed. Hariri said it targets Lebanon and its achievements from the Damascus visit.