Hariri in Syria today for first time since his Dad was assassinated
It is official. Prime minister Saad Hariri announced in a statement that he will visit Damascus on Saturday to meet with Syrian President Bashar al-Assad. According to Al Manar TV , Hariri is expected to arrive in Damascus at 3 pm Saturday and return to Beirut Sunday morning.
This is the first time he visits Syria since his father former PM Rafik Hariri was assassinated in 2005. Syria was accused of being behind Hariri's murder.
Hariri was expected to visit Damascus last Sunday, but the visit was postponed due to the many questions raised by countries sponsoring the reconciliation efforts over the Syrian warrants against a number of Lebanese officials.
In Lebanon there are a lot of expectations from this visit since there are many pending issues between Lebanon and Syria that need to be resolved and quickly such as the missing Lebanese and those in Syria jails , the demarcation of the borders , the Shebaa farms issue and the smuggling of arms from Syria too Lebanon . The most recent issue is the Syrian warrants against Lebanese officials which Hariri called a "mistake"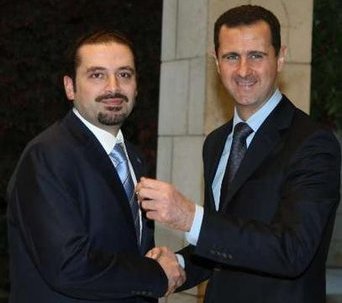 Source: Reuters
.
Update : Prime Minister Saad Hariri arrived in Damascus minutes after 3 PM for official talks with Syrian President Bashar Assad . He was accompanied only by his adviser Nader Hariri only . He will be meeting with president Assad at 4 Pm . President Assad is expected to host a state dinner in Hariri's honor at 6 pm according to LBC
Update : Two planes carrying the media delegation that will accompany Prime Minister Saad Hariri during his first visit to Syria landed at Damascus airport.