40 still missing as ship sinks off Lebanon
Danny F II , the Panamanian-flagged cargo hip carrying livestock went down Thursday in heavy rain off the coast of Tripoli in northern Lebanon
The ship had left Montevideo on 23 November with 10,224 sheep and 17,932 cattle, the company said.
The Lebanese army said in a statement that about 40 people were still missing. Of the 83 crew members on board, 38 were rescued and four bodies were retrieved. Some have reported that the captain of the ship, British national was amongst the dead .
The crew members were from Britain, Australia, Russia, Lebanon, Syria, Pakistan, the Philippines and Uruguay, the state-run National News Agency reported.
The ship was believed to have been sailing from Uruguay to Syria, It went down Thursday afternoon some 11 miles (17 kilometers) from the Lebanese port city of Tripoli.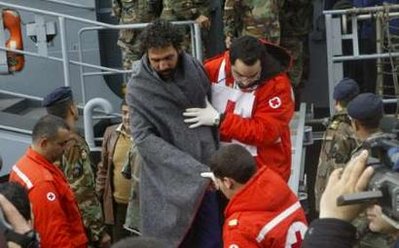 Lebanese Red Cross rescue workers help a survivor of the sunken Panama ship after he was rescued . Source: Reuters
.
Update: At least nine crew members were killed and 35 people were still missing ,as rescue workers continue to search the stormy waters off Lebanon on Friday after the Panamanian-flagged cargo ship carrying thousands of sheep and other livestock sank Thursday
Update: At least 11 crew members were killed and 33 people were still missing. The Lebanese and UNIFIL rescue workers continue to search the stormy waters off Lebanon