The vote of confidence debate part IV
Speaker Nabih Berri resumed part IV of the parliamentary session at around 6:00pm to debate the Ministerial Statement and grant the vote of confidence to the cabinet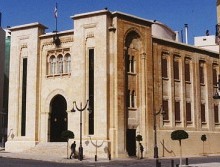 Parliament Speaker Nabih Berri resumed part IV of the parliamentary session at around 6:00pm to debate the Ministerial Statement and grant the vote of confidence to the cabinet of PM Saad Hariri
Amal MP Ali Bazzi was the first to start the debate by critcizing the MPs that have attacked Hezbollah "it is unfair to see some looking for a strong and capable Lebanon, while at the same time some refuse to have a Resistance that fought for the sake of Lebanon." He said . Commenting on the issue of eliminating political sectarianism,he said "It is unacceptable that when some loyal leaders call for eliminating political sectarianism, others refuse it, even though it is known that implementing the Taif Accord will benefit all Lebanese." "Unfortunately, the Ministerial Statement does not mention the elimination of political sectarianism," Bazzi added.
Lebanon First MP Hadi Hbeish expressed his reservations over the first paragraph of article 6 that delas with Hezbollah and added : We have a unique oportunity in Lebanon .. For God's sake lets not miss it !
Lebanon First MP Qassem Abdul Aziz said : The grace period is over and the government has to start work.
Lebanon First MP Khaled Daher said : Article 6 of the Ministerial Statement is confusing, since it might be interpreted that no one other than Hezbollah is allowed to carry weapons . We object to this exclusivity since Hezbollah should not be allowed keep its weapons under the pretext of the Resistance.
He added : "I do not understand the persistence on legalizing Hezbollah's weapon while and at the same time we call for respecting international resolutions…. This is contradictory , he said
Hezbollah MP Ali Fayyad welcomed what he described as "the national consensus regarding the national role of the Resistance" and the recognition for its need. "This Resistance does not go to war just to go to war," he said, adding that the Resistance has "a desire to safeguard [the nation]."
He added that the Resistance "acknowledges the state's authority in protecting its citizens. It never wanted to be in charge of internal affairs."
Fayyad denied that Hezbollah is violating UN Security Council Resolution 1701and said "Israel is the one that keeps on breaching it."
Fayyad also said that the Resistance is not a regional tool but plays a "strategic role in the region."
He also defended the timing of Speaker Nabih Berri's proposal to create a national council for the elimination of political sectarianism, saying it is within Berri's "rights to ask the parliament to work on it based on Article 49 and 59 of the constitution."
Lebanese Forces bloc MP Joseph urged his fellow deputies and citizens to "start working on a vision that serves the country by starting to implement the Taif Accord without cherry picking any of its articles. This would be done through dialogue and cooperation."
"The Sixth Article of the Ministerial Statement remains a contradictory article, and I support reservations expressed by some ministers," he said. He called for the sixth article to be discussed during the National Dialogue ". He also proposed lowering the voting age and allowing "Lebanese living abroad to have the right to vote."
FPM MP Ziad Aswad said " as long as Lebanon has the right to defend itself against any attack I call on strengthening the Lebanese army's capabilities immediately and noted this was omitted ," noting that "Resistance is a legitimate means to defend Lebanon."
Commenting on the Lebanese refugees in Israel Aswad said : "We must not forget the issue of refugees in Israel and the need to distinguish between who those that collaborated with them and carried arms, and the women and children."
Hezbollah MP Fadi al Awar said he offers his vote of confidence because of article 6 of the ministerial statement "because this article is the pride of Lebanon " and added " This resistance is our only strength for defending the country "
FPM MP Naji Gharios said : I am concerned about the corruption ..this is deadly and dangerous for the republic and contradicts the essence of democracy .Corruption constitutes existential threat to the State. Lets hope this government will be serious and willing to eradicate this disease
Speaker Nabih Berri announced that 26 MPs spoke today , 19 Mps spoke yesterday ..a total of 45 so far . The remaining 20 MPs will speak tomorrow 20 MPs
Berri adjourned the session until 10:30 am Thursday