Lebanon FM calls for diaspora to claim their Lebanese nationality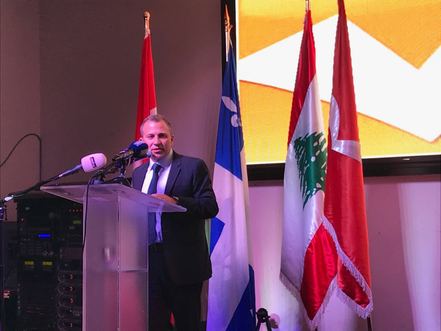 Lebanon Caretaker Foreign Minister Gebran Bassil  and Free Patriotic Movement chief Saturday called on members of the Lebanese diaspora to claim their Lebanese citizenship as a way to "preserve Lebanon," in comments made at the third Lebanese Diaspora Energy North America conference, in Montreal, Canada.
"The greatest thing about us is that our Lebanese-ness is what brings us together. Libanity-Libanite is what differentiates us from others: It is our culture, our civilization and our history," he said.
Bassil said people of Lebanese descent could obtain citizenship through several means: via the Law for the Restoration of Nationality, through contact with embassies or by presidential decree.
"For the first time ever, Lebanese expats will have MPs who represent them and they will have the right to take part in their country's decision-making process," said Bassil
"Vote for those who are combating corruption and servants — those who are building a state that rejects the presence of officials who are subservient to occupiers or embassies," Bassil added during an FPM dinner in Montreal.
He also called for women to be empowered to pass on nationality to their children – currently forbidden in Lebanon – as part of a bill Bassil said his Free Patriotic Movement had introduced in parliament.
The proposal, however, includes an exception for those married to people from "neighboring countries" – Palestinians and Syrians – something Bassil said had to be done to prevent "exposing Lebanon to danger."
Agencies