FPM's Bassil refutes Soleimani's claim : "We are independent, not part of Hezbollah"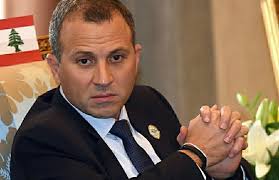 Free Patriotic Movement leader  MP Gebran Bassil said on  Tuesday that his " Strong Lebanon parliamentary bloc" is "independent " and not submissive to any anyone
His remarks came after   Iranian  General Qassem Soleimani's recent remarks in which he  counted the FPM bloc as   part of Hezbollah's share in the new parliament.
"We are an independent bloc that reached parliament with its own strength. We are not submissive to anyone and no one is submissive to us," Bassil said after the bloc's weekly meeting
"The parliament only contains political weights and no one has won the majority," Bassil added.
In remarks that have sparked outrage  in Lebanon, Soleimani has praised Hezbollah and its allies for making significant gains in last month's parliamentary elections.
Bassil's remarks come a day after Lebanese Prime Minister Saad Hariri slammed  Soleimani's  remarks  about Hezbollah's parliamentary strength
Lebanese media aired a videoposted on social media showing Gen. Qassem Soleimani, the head of Iran's elite fighting Quds Force, saying that "Hezbollah has won 74 out of parliament's 128 seats, "   at a time when some Arab countries labeled it and its leaders as terrorists.
Hariri told reporters later on  Monday that the comments are "regrettable," adding that interfering in Lebanon's internal affairs is "not in their (Iran's) interest, nor those of Lebanon or the region."
Lebanon's Hezbollah is a division of the Quds Force,  a special unit of Iran's Revolutionary Guards responsible for their extraterritorial operations.
Qassem Soleimani is one of the most prominent and influential military figures in Iran today. He is involved in Iranian military activity in many countries, including Iraq, Afghanistan and the Caucasus states, and is considered one of the people closest to Iran's supreme leader, Ali Khamenei.
Local political analysts  pointed out following the elections  that "Hezbollah's electoral domination" is a myth and a reductionist and inaccurate way of understanding what happened on May 6.  This came after Israeli  and Western media  interpreted the   results of the Lebanese elections  as a complete domination of Lebanon  by Hezbollah
"Hezbollah = Lebanon,"  Israeli Education Minister Naftali Bennett, a rightist in the Israel's conservative coalition government, said on Twitter on Monday May 7 a day  following  the election.
This is absolutely not to say that Hezbollah is not a powerful political and military force in Lebanon, or that the party does not pose a very serious challenge and obstacle to the emergence of a strong state. Hezbollah's weapons also play a role in Lebanese politics, as we saw in the organisation's May 2008 armed takeover of Beirut and also in its decision to get involved in Syria, without consulting with the government or parliament.
Indeed, one has to be very naïve to claim that Hezbollah is simply a resistance movement and that its arsenal has no bearing on internal affairs or elections (both parliamentary and presidential).
But claims that Lebanon is now "hostage" to Hezbollah (and Iran) are exaggerated. Yet they are music to the ears of Israel which promotes this line to justify whatever war crimes its army will commit in any future conflict in the name of "self-defence" and "war on terrorism".
The fact  of the matter is that Hezbollah as a party  was able to gain only one seat in the parliament  ( from 12 to 13 total seats) , while its  top rival the Lebanese Forces almost doubled the number of seats n from 8 to 15
Although President Aoun has a tendency to work with Hezbollah and give their influence political legitimacy, his Free Patriot Movement party  ( as is obvious from Bassil's remarks ) is  deeply divided, with most of its members  identifying as solidly pro-western.
Hence the generally accepted narrative being repeated by most media outlets that Lebanon has been "taken over by Hezbollah" is wrong and  dangerous and gives undeserved credibility to Hezbollah at a time when the U.S. and international community should be doing all they  can to to help Lebanon  and its institutions in coping  with  1.5 million  Syrian  refugees.
Soleimani  and Sadr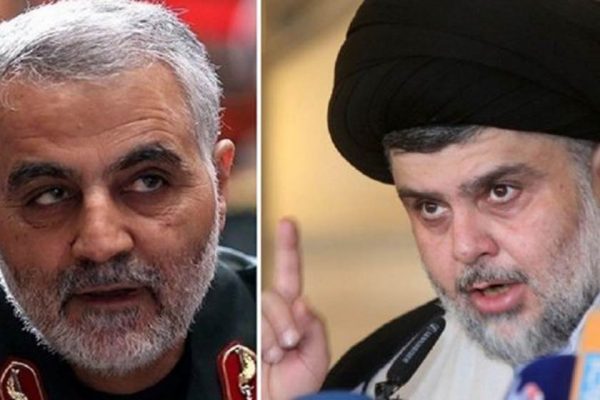 Soleimani is not interfering only  in the internal affairs of Lebanon  but he is also interfering in the internal affairs of Syria, Iraq, and Yemen and several Arabian gulf countries .
According to the most recent reports from Iraq Soleimani exerted pressure on Sadrist Movement leader, Moqtada al-Sadr at the house of Nuri al-Maliki to form alliance with Hadi al-Amiri , the Iranian backed Shiite militia leader, in order to stop bombings witnessed in Sadr city.
At least 18 people were  killed last Thursday and more than 90 wounded in an explosion in Baghdad's Sadr City district, an Iraqi police source said.
Sadr City is a stronghold of Mr Sadr, whose political bloc won a May 12 parliamentary election.
AP/YL