Lebanon Tells Syria: Development law could hinder refugees' return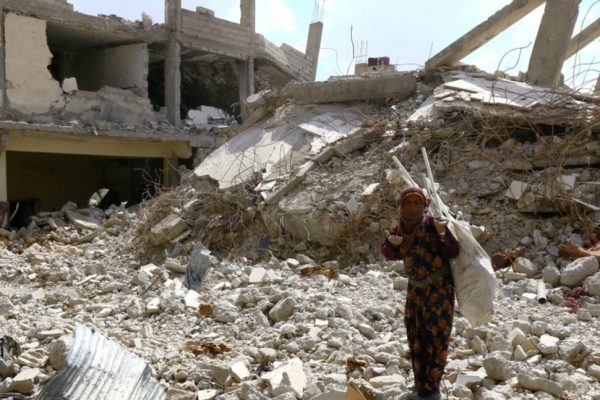 Lebanon expressed concern to Syria on Saturday over a new law aimed at redeveloping areas devastated by seven years of war, saying the initiative could hinder the return of many Syrian refugees to their homeland.
Lebanese Foreign Minister Gebran Bassil wrote in a letter to his Syrian counterpart Walid al-Moualem that the terms of "Law 10" could make it difficult for refugees to prove property ownership, and in turn discourage some from returning.
The legislation came into effect last month as the army was on the brink of crushing the last insurgent enclaves near Damascus, consolidating President Bashar al-Assad's grip over nearly all of western Syria.
It allows people to prove they own property in the areas chosen for redevelopment, and to claim compensation. But aid groups say the chaos of war means few will be able to do so in the time specified. The law has yet to be applied.
Bassil, whose country hosts more than a million Syrian refugees, voiced concern over the limited time frame given for refugees to prove possession of their properties.
"The inability of the refugees to practically present what proves their possession (of their properties) during the given time limit might lead to them losing their properties and their sense of national identity," Bassil said in the letter, according to a Foreign Ministry statement.
"This would deprive them of one of the main incentives for their  return to Syria," he added, echoing comments earlier this week by Lebanese Prime Minister Saad al-Hariri.
Hariri said the law "tells thousands of Syrian families to stay in Lebanon" by threatening them with property confiscation.
Bassil sent a similar letter to U.N. Secretary-General Antonio Guterres, calling for action to protect the rights of Syrian refugees in maintaining their properties.
Syria's real-estate law Number 10
It could be one the greatest land grabs this century: A real-estate law with profound implications for millions of Syrian refugees and the countries hosting them.
Under the Syrian Government's new Law Number 10, Syrians now have just weeks to register and prove they own their homes before the Government is able to sell them off at auction.
It is a means of regularising land titles and preparing for redevelopment after a period of hellish turmoil.
But it will especially disadvantage the five-and-a-half million Syrians who have fled their country and the six million who are internally displaced.
"Those who get hit harder are people who oppose the Government, people who formed the core of the uprising against the Syrian regime, and these people have been mostly expelled and today live as refugees and displaced to other parts of the country," says dissident Syrian journalist Jihad Yazigi
Yazigi, who publishes The Syria Report website focused on economic issues, says like all land-grabs, a group of developers with solid government connections is expected to benefit.
"The people who are going to benefit the most are businessmen, regime cronies, powerful investors very closely tied to the regime," he says.
He argues Law Number 10 is the logical extension of an earlier law, which saw long-term contracts granted for the redevelopment of a suburb in Damascus. Rami Makhlouf, the maternal cousin of Syrian President Bashar al Assad, was one of the developers.
Apart from the obvious hazards of returning to a land still experiencing conflict on several levels, and the fear many refugees have of dealing with the Syrian state, the law risks dispossessing Syrians whose title was never registered with the Government.
Before the war broke out in 2011, this was not uncommon.
"We used to inherit the land from our grandfather, to our father to us," says Mohammed el Shebli, a Syrian refugee living in Lebanon.
Next to the vegetable fields north of Tripoli, he and his wife have built a rudimentary home, made of concrete bricks and tarpaulins. Neighbours keep an eye on their house back home and report that, while all of its contents have been stolen, the structure is still standing.
"I don't know how we can prove it but when we get back, there are neighbours who can certify that these lands belong to us. Otherwise there are no other options, there is no other evidence," he says.
He is unlikely to get that chance.
"I would be devastated if I lose everything but there would be nothing I could do about it. What can I do? I would try to find a country to emigrate to".
Western nations won't help pay Syria's $200 billion reconstruction bill until there's a change of power in Damascus.
But Mr Yazigi argues the Government's redevelopment plans also send a powerful message to the international community.
That can be either political concessions like recognition of the Syrian regime and restoring ties or providing funding for reconstruction."
In the process, millions of Syrian refugees have been thrown into new uncertainty.
"Perfidious plan"
Germany is spearheading efforts to counter Assad's attempts to confiscate Syrian refugees' property as a newly introduced legalization will prevent the return of Syrian refugees to their homes.
The German government said that the presidential decree No.10 on real estate registration is a "cynical plan" designed to confiscate refugees' property. It added that it would be discussing with its partners in the EU how "we can oppose this perfidious plan." It also called upon the United Nations and the UN Security Council to address the issue.
The German foreign ministry called Assad's plan "perfidious," stressing that many asylum seekers could lose what is left of their homes in the coming months — and with it, the incentive to return to their home country.
The ministry added that the Assad regime is seeking "to call into question the property rights of many exiled Syrians, using flimsy legal regulations", "fundamentally change local conditions" in favor of the regime and its supporters and "make it difficult for a huge number of Syrians to return."
"We urge the supporters of the regime, above all Russia, to prevent the implementation of these laws. It is about the fate and the future of people who have suffered great suffering and deprivation for more than seven years. Their hope is to have a peaceful life in Syria again someday," the ministry added.