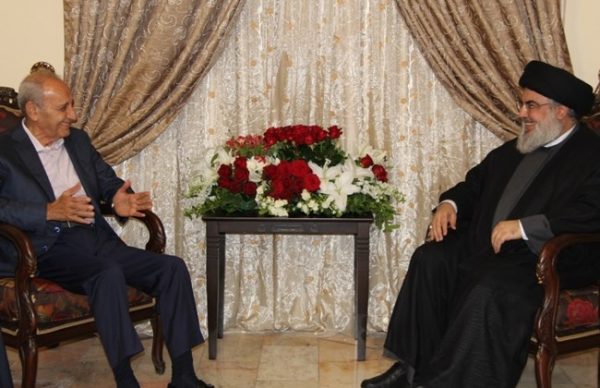 Hezbollah chief Hassan Nasrallah met Friday evening at an undisclosed location with   Nabih Berri who was re-elected for the sixth time as the Speaker .
They   "discussed the general situation in Lebanon and the latest developments on the Palestinian arena," National News Agency reported on Saturday.
The meeting was held in the presence of caretaker Finance Minister Ali Hassan Khalil (senior political aide to Berri) and senior Hezbollah official Hussein Khalil.
The two parties expressed their "satisfaction" with the results of the May 6 parliamentary elections, and the "broad popular participation that confirmed the commitment to the resistance and the political project carried by Hizbullah, AMAL Movement and their allies."
They voiced contentment with the "re-election of Speaker Nabih Berri and the re-appointment of Prime Minister Saad Hariri."
They called for the swift formation of a new national government "that reflects the correct representation."