Lebanese army gets more US arms to improve border security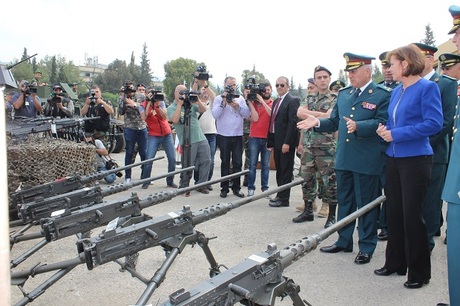 United States, Ambassador Elizabeth Richard presented on Friday on behalf of the US government over 1000 machine guns of various types to the Lebanese Armed Forces as part of the LAF's ongoing efforts to improve border security, a US embassy statement said.
In a ceremony at the Logistics Brigade Headquarters at Kfarshima, attended by LAF Brigadier General Farah and Brigadier General Abi Nasif, Ambassador Richard highlighted the important role the LAF plays in addressing the serious challenges Lebanon faces, many of which arise from the conflict in Syria.
She stressed that this new shipment of weapons is another example of the ongoing U.S. government program to improve the LAF's capabilities to carry out its mission as the sole defender of Lebanon.
Ambassador Richard said: "Today, I am happy to be with you to hand over the latest delivery of equipment which we are confident will be directly employed to protect and defend Lebanon's borders, and by the very nature of that act, Lebanon's most valuable asset, its people.
"In the past, delivery ceremonies have focused on more sophisticated and technologically advanced military hardware. In August, in one of my first interactions with the LAF, we marked the delivery of 50 Armored HUMVEES with automatic grenade launchers, 40 howitzer artillery pieces, and advanced HELLFIRE Missiles along with many other types of munitions. In December, we again gathered to celebrate the delivery of the LAF's latest armed Cessna aircraft," said Richard.
"The Lebanese Army has quickly utilized this increase in combat power to aggressively target terrorist threats, protect the nation's borders, and demonstrate its resolve to defend the Lebanese way of life, and we have seen how border communities' trust in the LAF is impressively high and is growing," the Ambassador remarked.
"The equipment we see here today does not represent a new capability for the Lebanese Army. Rather, it will strengthen your ongoing efforts to increase your border protection. Recipients will include the Border Regiments that are now being stood up as part of the joint US-Lebanon-UK program to secure the whole of the Lebanese – Syrian border for the Lebanese state by early next year," she added.
Richard concluded: "These weapons displayed before you, much like the Lebanese soldiers, are proven, reliable, trustworthy, and deadly to those who would impinge on Lebanon's sovereignty and freedom.
"We recognize that the challenges facing Lebanon are serious. Many of them emanate from outside your borders. But the Lebanese are strong, as you have proven over and over through history. Rest assured that the United States stands beside the Lebanese Government and the Lebanese Army as we work together for a more peaceful future for all of us."