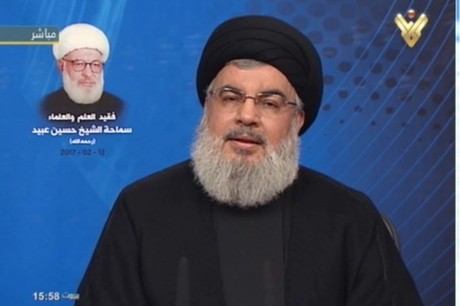 Lebanese Hezbollah said on Thursday the outcome of U.S. President Donald Trump's meeting with Israeli Prime Minister Benjamin Netanyahu had effectively signaled an end to peaceful negotiations between Israel and the Palestinians.
"After what came out after the meeting between Netanyahu and Trump, I am not exaggerating if I say that yesterday there was a semi-official announcement of the death of the path of negotiations," Hezbollah leader Sayyed Hassan Nasrallah said in a live televised speech.
Trump on Wednesday dropped a U.S. commitment to a two-state solution to the Israeli-Palestinian conflict, Washington's longstanding policy on the Middle East.
"For the Israelis, there is no such thing as a Palestinian state," Nasrallah said, adding that the two-state solution was the only thing keeping the door to negotiations open.
Nasrallah warned that Hezbollah would put up fierce resistance in any future confrontation with Israel should Trump give it the green light to attack it inside Lebanon, but played down the prospects such a battle.
Israel fought a destructive month-long war with its Lebanese foe Hezbollah in 2006, and has targeted the group including military leaders in several deadly strikes in Syria in recent years but there has been no major direct confrontation.
REUTERS
This error message is only visible to WordPress admins
Error: No connected account.
Please go to the Instagram Feed settings page to connect an account.