Tillerson: US not tilting towards Russia on Syria and backs UN effort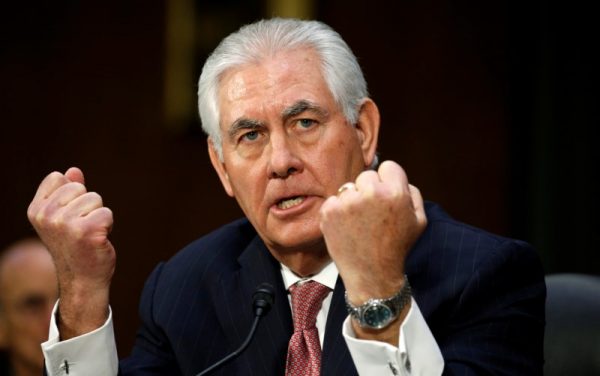 Rex Tillerson, trying to reassure allies that Washington was not tilting towards Moscow over the Syrian conflict, told them on Friday that the US backed UN efforts to broker a political solution to the war, officials and diplomats said.
US Secretary of State Tillerson also said military ties with Russia hinged on its stance towards rebels fighting the government of President Bashar al-Assad, whom Russia backs.
Countries opposed to Assad, including the United States, France, Saudi Arabia, Turkey and Britain, met on Friday for the first time since Donald Trump took office as US president in a bid to find common ground ahead of UN-backed peace negotiations in Geneva next week.
All eyes have been on Washington and its approach to ending the war in Syria, given promises by Trump to build closer ties to Russia, especially in the fight against the Islamic State (IS) group. His policy on Syria has been unclear.
Western diplomats said that in talks on the sidelines of the G20 foreign ministers' meeting, Tillerson had stressed the importance of sticking to UN efforts to reach a political solution based on Security Council Resolution 2254.
UN Special Envoy to Syria Staffan de Mistura will convene a new round of peace talks among the various Syrian factions next Thursday.
The diplomats also said Tillerson had stressed that Moscow's position to align itself with the Syrian government and to label all rebels as terrorists would make military cooperation between Washington and Moscow complicated.
"In the discussion, he made it clear that there would not be military cooperation until the Russians accepted that not all the opposition are terrorists," one diplomat said.
Strong position
Assad is in his strongest position since the early days of the civil war, which began as a popular uprising in the spring of 2011 before spiralling into a war that has killed up to 400,000 combatants and civilians.
The US, along with Gulf Arab States and Turkey, backs the rebel forces. However, the situation is complicated by the role of hardline Islamist factions, including the Islamic State (IS) group, in the anti-Assad movement who are opposed by both Washington and Moscow.
French Foreign Minister Jean-Marc Ayrault told reporters Friday's exchange had been useful.
"We ask the Russian backer of the regime to put pressure on it so it stops considering that all the opposition are terrorists," Ayrault said. "Otherwise, there will be no discussion in Geneva."
German Foreign Minister Sigmar Gabriel said after the meeting that it was clear that everyone wanted a political solution.
"This political solution must be achieved in Geneva under the auspices of the United Nations and that there cannot be any parallel negotiations," Gabriel told reporters.
Russia has sought to revive diplomacy since its air force helped to defeat rebels in Aleppo in December, the Syrian leader's biggest victory to date. Nearly six years into the war, Assad seems militarily unassailable thanks to the decisive backing of Russia and Iran.
It has held a series of parallel intra-Syrian negotiations in coordination with Turkey and Iran in the Kazakh capital Astana to reinforce a shaky ceasefire and has tried to expand the scope to cover political aspects.
On Thursday, Russian Foreign Minister Sergei Lavrov said the United States supported the Russian-sponsored talks, which ended with no joint communique and opposing Syrian groups exchanging angry tirades.
"The Russians are trying to pilot a separate process," said one diplomat. "Geneva is an extremely fragile process and we want to avoid it being chaotic."
(FRANCE 24 with REUTERS)