Lebanese army foils another suicide bombing plot in Beirut, updates
The Lebanese army arrested  another bomber inside a crowded café in the capital Beirut on Saturday.
In a statement, the army said the be bomber had tried to detonate his explosive belt inside the Costa  coffee shop in the plush Hamra neighborhood in west Beirut.
The bomber, the statement said, was spotted by soldiers, who have stepped up foot patrols in the neighborhood in recent weeks.
According to the statement, the man was injured during the arrest as soldiers held him down to ensure he was not able to detonate his belt.
Lebanon was hit by a string of attacks in recent years.
In 2015, around 40 people were killed in two suicide bombings in the capital Beirut.
Hariri 
PM Saad Hariri rushed to the scene of the incident and hailed the army's achievement  and told the crowd:
"Do not be afraid  of anyone …be afraid  of God only , since the army and security forces are working day and night to protect all of us.  The country is fine as long as  there is  unity and cohesion among the Lebanese people.
He added:" I came here  to tell you that we   reject fear  and will continue to enjoy a norma life by going out as we please  to any restaurant or any coffee shop we like we like and will continue to do so".
He also called on the crowd "to cooperate with the army and security force and inform them on any suspicious people or actions that you encounter".
He concluded his statement by declaring " The criminal is not a Muslim,  has nothing to do with Islam and will be paying a heavy price for his action"
The suicide bomber was identified as  Omar Hassan Al-Assi from Sidon, south  Lebanon
8 kg of explosives
The  Lebanese Armed Forces Orientation Directorate  issued a statement in which it said  that the explosive belt of terrorist Omar Hassan Al-Assi   contained eight kilograms of explosive materials, as well as a quantity of iron balls, with the aim of causing  maximum  number of casualties and  damages .
The statement  added: An army unit  searched the building in which the terrorist lived in Sidon and arrested two of his brothers and several of his relatives from the Bukhari and Habli families.  The suspects are all being interrogated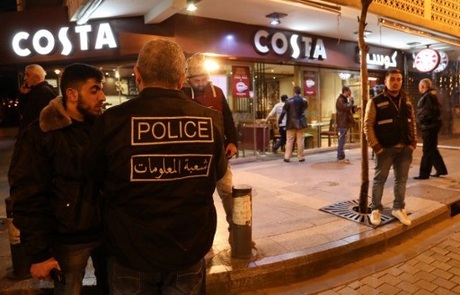 Lebanon has been hit by a string of bomb attacks in recent years, many of which were  linked to the ongoing civil war in neighboring Syria.
Some of the deadliest blasts have targeted  strongholds of the Iranian backed Hezbollah  militant group  , which is fighting alongside Syria's government against the rebels.
The Hamra  , a   West Beirut neighborhood  known for its upscale shopping and nightlife, has not previously been the target of  any attack.
ISIS
The Lebanese Security Forces have announced on their Twitter account that the failed  suicide bomber confessed to being an ISIS  terrorist .
Lebanese security forces were observing and following  the suicide bomber before he entered the Costa Cafe on Al-Hamra stree