Hezbollah's Death toll in Syrian civil war tops 1263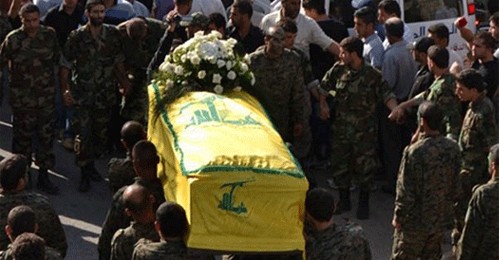 Al Sharq al Awsat newspaper reported on Tuesday that the human and moral cost of  Hezbollah's involvement  in the Syrian civil war over the past  four years has become extremely high   and has become a huge burden  which is expected to get more serious following  Syria's  post- war era .
Al Sharq al Awsat  sources revealed that  Hezbollah's Death toll in the Syrian civil was  1263  at the end of last week most of them reportedly form the elite forces.
During Last week end Hezbollah admitted the loss of another 8 fighters , but  security sources reported that the actual number was 17 , which results in a  death toll until last week end of 1280 .
Hezbollah is actively engaged in a number of offensives launched recently by the Syrian army , the Iranian Revolutionary Guards and Shiite militia forces against rebel-held positions in various districts across the country, backed by the Russian air force.
Russia escalated its involvement in the Syrian civil war last month after President Vladimir Putin attained parliamentary approval to utilize force abroad.
The Russian presence on the ground has since increased, while the Russian air force has begun providing air coverto the Assad forces .
Hezbollah has sent elite forces across the border with Syria to bolster Assad's regime in the face of an Islamist-led uprising.
Hezbollah's performance
Ali Al-Amin, a Lebanese political analyst and researcher, spoke of "major objections within the group over its performance in Syria" after it recently suffered great losses in lives at the hands of Syrian rebel groups.
The growing state of restlessness with the "absence of prospects for victory [in Syria]" has exceeded the Lebanese group's support base to its leadership, according to Amin.
"The debate has moved to the inner circle of the group represented by its jihad council, with voices starting to question how after all the sacrifices they made in Syria, the Russians came and took all of their achievements," Amin said.
A key ally of Assad, Russia increased its military presence in Syria last month and launched a series of airstrikes which it said targeted the Islamic State of Iraq and Syria (ISIS) group. However, analysts argue that the Russian buildup is meant to shore up Assad's forces and their Hezbollah backers weakened by a series of gains by rebels.
Hezbollah's dead in Syria were not limited to highly trained fighters but also included dozens of high-ranking commanders, the latest of whom was Hassan Hussein Al-Hajj, aka Hajj Maher, a founder of the pro-Assad militia.
Hajj was killed by Syrian rebels in the El-Ghab valley north of Hamah province earlier this month and was described by Hezbollah as "a senior commander" who was close to the group's leader Hassan Nasrallah.
Amin said: "Hezbollah's losses in Syria exceeded expectations … and its elite Al-Radwan battalion has been greatly exhausted to the extent of disintegration after the loss of its commanders and professional fighters in the Zabadani battle."
YL with al Sharq al Awsat