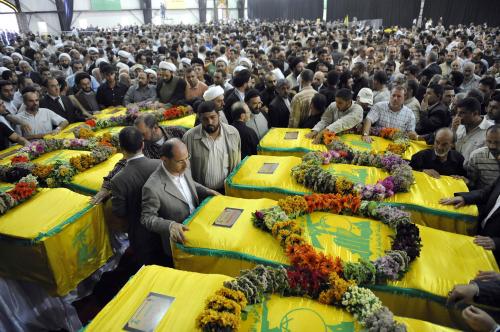 Eight more Hezbollah fighters were killed over the past 24 hours in battles in Syria, a according to security source
Speaking on condition of anonymity, the source said the fighters fell on several fronts across the country, where they were battling Syrian rebels.
Hezbollah is actively engaged in a number of offensives launched recently by the Syrian army , the Iranian Revolutionary Guards and Shiite militia forces against rebel-held positions in various districts across the country, backed by the Russian air force.
Russia escalated its involvement in the Syrian civil war last month after President Vladimir Putin attained parliamentary approval to utilize force abroad.
The Russian presence on the ground has since increased, while the Russian air force has begun providing air cover to the Assad forces .
Hezbollah has sent elite forces across the border with Syria to bolster Assad's regime in the face of an Islamist-led uprising.
Earlier this month, Hezbollah lost a senior commander in Syria, the highest-profile battle death for the group since the Iranian backed Shiite party joined the war next door, fighting on the side of Assad.
Actual number much higher
Hezbollah acknowledged the loss of eight of its fighters, but according Saudi AlWatan newspaper the actual number of Hezbollah members killed this weekend is 17 and dozens were wounded .
Hezbollah revealed the names of 8 of the victims which we are listing in both Arabic and English:
علي فواز، ومحمد سعيد فواز، وسامي شريفة، وحسن حلاوي، وعلي الأكبر محمد خشفة، وحسين حسن شريفة، وعلي عبدالله شعيتو، وحسين غازي الرشعيني.
Ali Fawaz, Mohammed Saeed Fawaz, Sami Sharifeh, Hassan Halawi, Ali al Akbar Mohamamd Khashfeh , Hussein Hassan Sharifeh, Ali Abdullah Shayto, Hussein Ghazi Al Rasheeni
This error message is only visible to WordPress admins
Error: No connected account.
Please go to the Instagram Feed settings page to connect an account.