U.S. enforcement of Iran sanctions hampered by gov Shutdown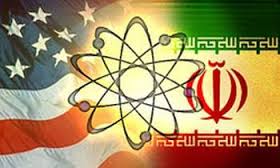 The White House said Friday the government shutdown is harming the Treasury Department's ability to administrate sanctions against Iran.
Press secretary Jay Carney told reporters President Barack Obama was being briefed Friday on issues including the shutdown's effect on the department's Office of Foreign Asset Control, which "implements the U.S. government's financial sanctions, including those sanctions that apply to Iran."
Carney said the matter illustrates "the consequences" of the shutdown and called on House Speaker John Boehner, R-Ohio, to "bring up the Senate-passed funding bill and just vote."
Boehner said Friday the budget standoff "isn't some damn game" and Obama said "nobody's winning" in the government shutdown.
Boehner spoke with reporters on Capitol Hill Friday — following a closed-door caucus of GOP leaders — and was asked about a Wall Street Journal article that quoted an administration official it did not identify as saying, "We are winning," and that the duration of the shutdown doesn't matter "because what matters is the end result."
"This isn't some damn game," Boehner responded.
"The American people don't want their government shut down, and neither do I," Boehner said. "All we're asking for is to sit down and have a discussion and to bring fairness to the American people under Obamacare. It's as simple as that."
Obama, during a stroll near the White House at lunchtime Friday, was asked who is winning the shutdown debate. He said "no one is winning" as long as federal workers are furloughed, and the "only way" to end the shutdown — which began Tuesday after funding expired for government operations without congressional approval of a stopgap spending bill — is for Boehner to call a House vote on a spending bill.
Carney told reporters Friday he would not "parse or explain every quote that appears in every article." He said the administration's position is "the government should be reopened today — now, in half an hour — whenever Speaker of the House John Boehner sees fit to put on the floor of the House a bill that would reopen the government, extend funding at levels Republicans claimed they were delighted with, and allow people to go back to work with no partisan strings attached. Put it on the floor now."
House Republicans Friday killed an attempt by Democrats to use a procedural tactic to force a vote on a so-called clean budget — one without amendments on Affordable Care Act funding or anything else — previously passed by the Senate.
The tactic required about 20 GOP votes to pass but received none, The Hill reported.
Senate Majority Leader Harry Reid, D-Nev., said Friday the shutdown is a national security matter because it is "hurting our ability to enforce the sanctions on Iran, to gather intelligence, operate our armed forces, just to name a few."
Reid said the shutdown is also causing states to lose revenue.
The government faces another deadline Oct. 17 if there is no vote on raising the debt limit. The Treasury Department estimates it will not have enough money to pay all its bills after that date, and failure to raise the statutory borrowing limit before then could produce a historic U.S. default, risking another economic crisis.
A 40-second ad released by House Majority PAC Friday depicts Boehner as crying baby. The spot is to air Sunday during the NFL contest between the Cincinnati Bengals and the New England Patriots, Roll Call reported.
A cartoon in Friday's Chicago Tribune depicted Boehner as a harried father with dozens of squalling infants and the caption, "The Governess."
Even though Boehner has indicated he won't dictate strategy, his caucus still is looking to him for direction, The Hill said.
"He's trying to work through it," said Rep. James Lankford of Oklahoma. "He has an awful lot in his arsenal."
Boehner hasn't signaled publicly what sort of deal he's seeking and his allies said they didn't expect the GOP leadership to spell out a specific plan during the Friday meeting.
Boehner has been meeting with members of his caucus throughout the week, including a lunch with 20 lawmakers Thursday. During that meeting, Boehner indicated he prefers reaching a big deal to avoid default and open the government.
"He's really trying to find the pathway that not only gets the government up and running again but really allows for an opportunity to get some major things done beyond that," a Republican House member close to Boehner told The Hill.
House Ways and Means Chairman Dave Camp, R-Mich., and House Budget Chairman Paul Ryan, R-Wis., have expressed an interest in a "grand plan" fiscal agreement.
Boehner, Majority Leader Eric Cantor of Virginia and other members of the Republican leadership have said they prefer to make a stand on the debt ceiling instead of a stopgap bill funding the federal government.
Obama and Harry Reid have said they won't negotiate on either issue. Both have said they want a "clean" continuing resolution to temporarily fund government.
Lankford said both sides need "to have a conversation" about ending brinkmanship, The Hill said.
"That conversation still needs to occur — how do we stop having debt ceiling increases," Lankford said. "The only way you stop having debt ceiling increases is have a plan that's a long-term plan to be able to slow down the growth of our spending.
"I don't think there's energy in the Republican conference to have any kind of default," he said.
A spokesman for Boehner said he would only advance a debt-limit increase if it were accompanied by provisions that address "the drivers of our debt and deficits."
House Minority Leader Nancy Pelosi, D-Calif., called on the House Republican leadership to "take back your party" from the Tea Party-driven members she says are responsible for the stalemate.
"They have something going on. I say to Republicans, 'Take back your party,'" Pelosi said on "CBS This Morning."
Pelosi said the infighting in the Republican Party is standing in the way of resolving the shutdown.
"It will take some coming together on the Republican side. It's very hard to negotiate with Republicans when they can't negotiate with themselves," Pelosi said. "They do not have within their own ranks the ability to take yes for an answer."
When asked about Republican charges Democrats won't negotiate, Pelosi noted that the Senate approved a budget bill at lower funding levels than Democrats preferred.
She said members of her caucus have" gone to the steps of the Capitol" and said they accept the Republican bill. Democrats may not like it but "we will accept that in order go forward."
"This needs to be a big bipartisan deal," Rep. Tom Cole, R-Okla., a Boehner ally, told The Washington Post after the lunch meeting. "This is much more about the debt ceiling and a larger budget agreement than it is about Obamacare," the common term for the Affordable Care Act.
Some conservative House members dismissed the idea of raising the debt ceiling without extracting demands from Senate Democrats and the White House.
"I don't see any way he would get a debt ceiling passed in the House without some conditions," Rep. John Fleming, R-La., told the Journal.
UPI