Hezbollah chief also calls on Salameh to quit amid mounting legal troubles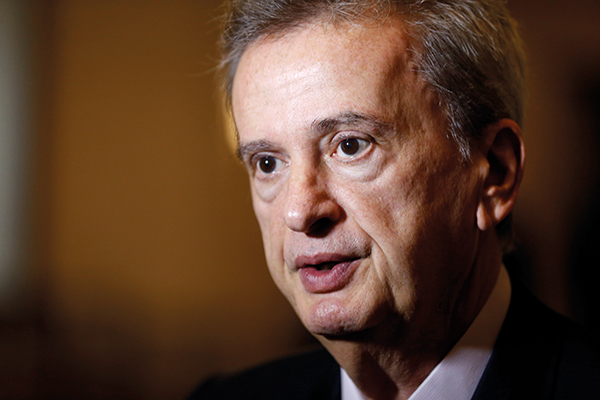 A number of Lebanese government officials have already called on governor, Riad Salameh to resign . but a Monday meeting of the Cabinet did not come up with a formal decision.
BEIRUT — The chief of Lebanon's militant Hezbollah group on Friday called on the country's central bank governor to resign amid mounting legal troubles.
The governor, Riad Salameh, should either step down or be stripped of his responsibilities, Hassan Abdel Karim  Nasrallah, the leader of the Iran-backed Hezbollah, said in a televised speech commemorating the Israeli withdrawal from southern Lebanon in 2000. 
On Wednesday, Salameh was questioned by a Lebanese judge and his Lebanese and French passports were confiscated, following an arrest warrant from France over corruption charges. He is a dual citizen.
The development effectively prevents Salameh from traveling abroad. Lebanon does not extradite its citizens to foreign countries or international tribunals.
"In Hezbollah, we believe that there are two options. The first is for the governor to step down of his own volition," Nasrallah said. The second, he said, is for the judiciary to take legal steps against Salameh and relieve him from his post.
Nasrallah's remarks were the first time he called for Salameh's resignation. A number of government officials have made similar calls but a Monday meeting of the Cabinet did not come up with a formal decision.
France, Germany and Luxembourg are investigating Salameh and his associates over myriad alleged financial crimes, including illicit enrichment and laundering of $330 million. A French investigative judge on May 16 issued an international arrest warrant, followed by an Interpol red notice, for the 72-year-old Salameh after he failed to show up in Paris for questioning.
Once seen as the guardian of Lebanon's financial stability, Salameh is now widely blamed for an economic meltdown that began in 2019. The Lebanese pound has since plummeted in value and wiped out much of the savings of ordinary Lebanese, plunging an estimated three-quarters of the population into poverty.
Salameh, who is also under investigation in Lebanon, has repeatedly denied all corruption allegations, saying he made his wealth from his years working at Merrill Lynch, inherited properties, and investments. He said he would only resign if convicted of a crime. He also said last week he plans to appeal the Interpol red notice.
Salameh has held his post for almost 30 years, but says he intends to step down after his current term ends in July.
Optimistic
Nasralla sounded optimistic about the developments in the region, in a possible reference to the resumption of the Saudi Iranian relations
"The developments in the region call for optimism," he added.
As for the current impasse over the presidential election, Nasrallah called for dialogue without any conditions.
Nasrallah who along with his ally Amal Movement leader Speaker Nabih Berri nominated Suleiman Franjieh to replace former president Michel Aoun.
"We are not boycotting anyone and we call for discussing the presidential choices without preconditions or elimination," Nasrallah said.
During the past 11 sessions of presidential election , Hezbollah and its allies boycotted the election of Michel Moawad.
Franjieh is perceived as another puppet of Hezbollah like Aoun before him.
Aoun was declared as Lebanon's worst ever president
AP/News Agencies