Suspect in Pentagon documents leak arrested
By Mike WendlingBBC News
A 21-year-old US Air Force National Guard employee has been arrested over the leak of highly sensitive US defence and intelligence documents.
Jack Teixeira is reported to be the leader of an online gaming chat group where the files leaked in recent months.
The New York Times said he is a member of the intelligence wing of the Massachusetts Air National Guard.
Aerial footage showed officers making an arrest at Mr Teixeira's family home.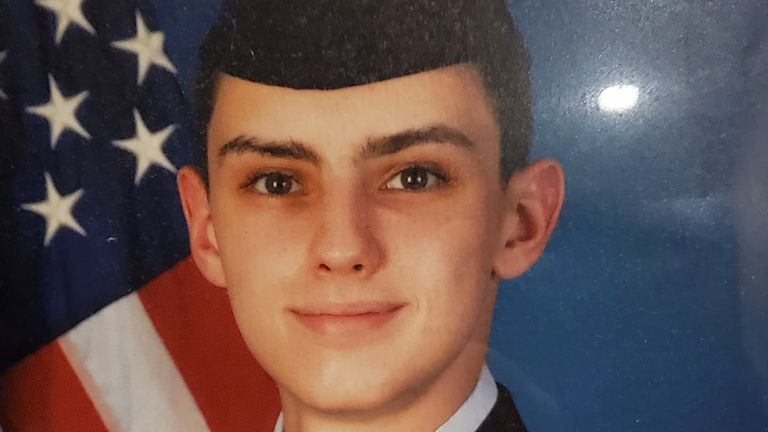 The footage shows a young man, believed to be Mr Teixeira, walking backwards towards armed FBI officers with his hands raised, before he is handcuffed and led to a car.
At least 50 but perhaps more than 100 classified documents were posted on Discord – a social media platform popular with gamers.
The documents contain a range of intelligence assessments about the war in Ukraine, but also sensitive intelligence about countries around the world, including US allies.
The New York Times earlier used interviews and social media clues to identify Mr Teixeira before the confirmation of his arrest.
A Department of Defence spokesman has said the Pentagon is continuing to work to "understand the scope, scale and impact of these leaks."
On Wednesday, the Washington Post published an interview with one of the members of the chat room where the documents initially appeared.
He described the leaker as a young, charismatic gun enthusiast in his early to mid-20s who works at an unnamed military base.
The Post reported that the man was the leader of a Discord chat room including roughly two dozen members who swapped "memes, offensive jokes and idle chitchat" and prayed and watched movies together.
The members included people from Russia and Ukraine and a number of other countries in Europe, Asia and South America, the paper reported.
At first the leaks were kept inside the small chat room, but in early March members began posting them on other Discord servers, including ones dedicated to the game Minecraft and a Filipino YouTuber.
From there they were posted on the fringe message board 4chan and on the Telegram chat app, particularly on pro-Russia channels. In some cases they were altered to increase Ukrainian casualty counts.
Earlier, while on a trip to Ireland, US President Joe Biden said investigators were close to finding the person who leaked the documents.
"There's a full blown investigation going on, as you know, with the intelligence community and the Justice Department, and they're getting close," Mr Biden told reporters.
BBC