Musk 'open to the idea' of buying failed Silicon Valley Bank (SVB)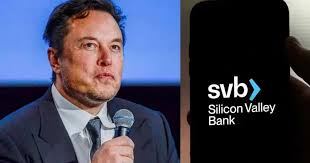 Elon Musk says he's open to the idea of Twitter buying Silicon Valley Bank, which abruptly failed on Friday, leaving many worried this weekend about what ramifications might unfold next week.
The billionaire responded Friday night to a suggestion that "Twitter should buy SVB and become a digital bank," from Min-Liang Tan, CEO of Razer, which sells gaming computers.
Musk replied, "I'm open to the idea."
Others also indicated their support. "I think Twitter could use a financial leg," Mikael Pawlo, head of branding at Swedish fintech firm Bokio, tweeted Friday. "Would make total sense for the entire Musk ecosystem to buy the ruins of SVB and could also create a viable business model going forward for Twitter."
"What an opportunity," tweeted Kevin Paffrath, CEO of HouseHack, a real-estate and A.I. startup. "2-3 years to get a banking charter otherwise. Just make sure you go through those toxic assets with a fine-tooth comb."
Musk, who helped launch PayPal, took over Twitter for $44 billion in late October. He aims to add payments to the platform, which an acquisition of SVB would presumably help with.
"Buying Twitter is an accelerant to creating X, the everything app," he tweetedearlier that month. China's WeChat offers an example of such an app, featuring payments in addition to messaging, streaming, and video chats, among much else.
Twitter has been applying for regulatory licenses and creating software to introduce payments on the platform, the Financial Times reported in late January.
Fortune reached out to Twitter for comment but did not receive an immediate reply.

Of course, not everyone is thrilled with the idea of Musk having another distraction. Investors in Tesla, notably, have been frustrated with Musk's focus on Twitter. Musk sold billions worth of Tesla stock to help finance his takeover of Twitter and has been preoccupied with reshaping the platform.
In December, Leo Koguan, one of Tesla's largest individual shareholders called for a leadership change, tweeting: "Elon abandoned Tesla and Tesla has no working CEO. Tesla needs and deserves to have working full time CEO."
On Friday, a self-described Tesla investor with the Twitter handle @sanssoli responded to Paffrath's "opportunity" comment by writing, "And sell another $20 billion worth of $Tesla stock. No thanks!"
Meanwhile, as Musk ponders becoming a banker, he might also become a landlord. According to the Wall Street Journal, Musk is planning to build his own town along the Colorado River outside of Austin, Texas. Workers at Tesla, SpaceX, and The Boring Company would reportedly be able to live in new homes there at below-market rates.
Some of them, perhaps, might also be customers of Silicon Valley Bank, which has branches nearby
An 'existential risk' to innovation and competition in America
Founded over a poker game in 1983, Silicon Valley Bank became the go-to lender for tech startups that appeared too risky in the eyes of larger, more traditional banks. Eventually, Silicon Valley Bank would come to do business with nearly half of all U.S. tech startups backed by venture capitalists.
Silicon Valley Bank did business with well-known tech companies including Shopify, Pinterest, Fitbit and thousands of lesser-known startups, in addition to established venture capital firms, like Andreessen Horowitz.
Roku, the TV streaming provider, was among the companies caught in the middle to the tune of $487 million, it said in a regulator filing on Friday. "At this time, the company does not know to what extent the company will be able to recover its cash on deposit at SVB," officials at Roku wrote of what amounts to about 26% of the company's cash.
While most banking experts do not expect the fallout from Silicon Valley Bank's collapse to spread to other parts of the financial world, how much money depositors will be able to recoup remains an open question.
Challenging' time for startups
The Federal Deposit Insurance Corporation has said that depositors will be able to access up to $250,000 of their funds by Monday morning. Any amount above that will result in a "receivership certificate."
And when the FDIC sells the assets of Silicon Valley Bank, those with certificates will receive payments — but how long that will take, and what amount of money will be paid back, remains unclear.
According to Silicon Valley Bank filings, as little as about 4% of the bank's deposits are below $250,000, meaning the vast bulk of depositors have money that exceeds standard federal insurance.
Securing $250,000 from the FDIC would allow the startup to stay open for an additional several days, but not much longer.
Yahoo./ NPR
This story was originally featured on Fortune.com