Removal of Muslim Rep from House committee raises serious questions about US freedom of speech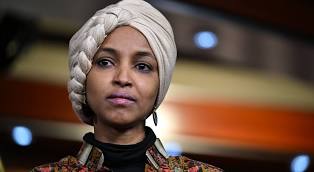 After two hours of fiery debate on the House floor Thursday, Minnesota Rep. Ilhan Omar was removed from the House Foreign Affairs Committee, in a close party-line vote of 218 to 211. One Republican, Rep. Dave Joyce of Ohio, voted "present."
Republicans ostensibly put forward the motion to remove Omar, one of three Muslims serving in Congress, because of past comments she had made about Israel. In 2019, as a freshman, she drew criticism for comments about the pro-Israel lobby buying lawmakers' support, and later apologized. A couple years later, she accused Israel and Hamas of human rights abuses, sharing that she spoke with Secretary of State Antony Blinken about pushing for an investigation.
The removal of Minnesota Rep. Ilhan Omar from the House Foreign Affairs Committee has raised concerns among many individuals, both in the US and abroad, about the protection of free speech in America. The decision to remove her has been perceived by many as an attempt to silence critical voices and limit debate, particularly on issues related to Israel
Thursday's vote was another instance of Rep. Kevin McCarthy making good on his vow to remove Democrats from key committee assignments if Republicans won back their majority. Omar joined Democratic Reps. Eric Swalwell and Adam Schiff, who were also officially denied seats on the House Intelligence Committee earlier this month.
The Democrats in the House accused the Republicans of racism and hypocrisy.
Here are some of the most dramatic moments leading up to the final vote:
"There's nothing consistent with the Republican Party's continued attack, except the racism and incitement of violence against women of color in this body."
—Rep. Alexandria Ocasio-Cortez
The New York representative came out swinging to defend Omar, arguing she was being targeted because of her Muslim faith and race.
"There is no equivalency here."
—Rep. Steny Hoyer
Hoyer argued that there's no comparing the effort to oust Omar to Rep. Marjorie Taylor Greene and Rep. Paul Gosar's removal from their committees last year. He displayed a blown-up copy of one of Greene's Facebook posts that shows her holding a gun in one half of the frame, with Omar, Rep. Rashida Tlaib and Reb. Alexandria Ocasio-Cortez's faces in the other.
Greene and Gosar were both removed "because of the threat they posed to three of our colleagues," Hoyer said.
Something just doesn't add up."
—Rep. Gregory Meeks
Meeks argued that Thursday's vote was not about antisemitism at all, and that Republicans only targeted Omar because she is a Black Muslim woman. He noted that House Speaker McCarthy was not disciplined after publishing a Tweet back in 2018 that criticized three Jewish Democratic donors, which was widely viewed as antisemitic.
"Republicans are waging a blatantly Islamophobic and racist attack on Congresswoman Omar."
—Rep. Cori Bush
Bush highlighted how Omar has been ridiculed by her colleagues in Congress because of her Muslim faith—like when Rep. Lauren Boebert shared an anti-Muslim story about Omar during a public event. "Rather than bring any actual accountability to Congress, they bring this offensive resolution to the floor," she said.
"This is a revenge resolution."
—Rep. Pramila Jayapal
Jaypal, who serves as chair of the Congressional Progressive Caucus, said Republicans' motive behind booting Omar from her committee assignment is to "silence" the congresswoman because they do not agree with her views.
"Look in your own damn mirror."
—Rep. Eric Swalwell
Another Democrat who lost a committee assignment, Swalwell also brought visual aids to Thursday's floor vote. The congressman pointed to a blown-up tweet from the House Judiciary GOP Twitter account. "And so I thought, we're going to hold somebody accountable for antisemitism, surely it's the author of this tweet. 'Kanye. Elon. Trump.' October 6. Written by Chairman Jim Jordan."
Swalwell pointed out that Kanye made a series of antisemitic remarks, but Jordan's tweet was not immediately taken down, nor was he disciplined by the GOP.
"Is anyone surprised that I am being targeted?"
—Rep. Ilhan Omar
The woman of the hour spoke in her own defense, pointing out that former president Barack Obama was also targeted with conspiracy theories that he was a secret Muslim and not really an American citizen.
State.com/ Ya Libnan