Update: Coronavirus killed more Americans than Vietnam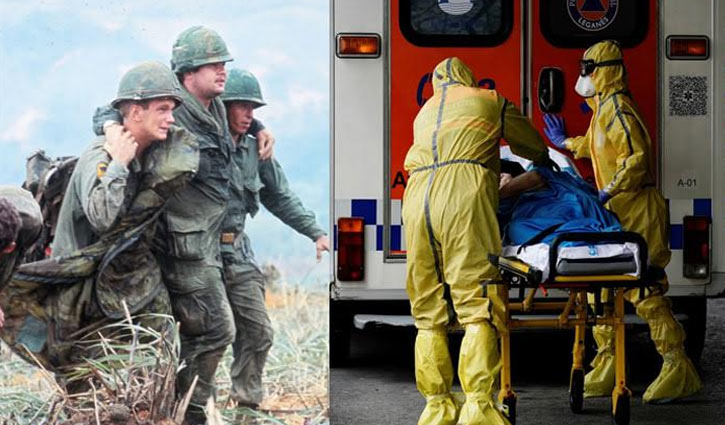 The U.S. coronavirus death toll topped 60,000 on Wednesday, according to Johns Hopkins University. COVID-19 has already claimed more American lives than the Vietnam War. But despite the mounting toll, more state and city leaders plan to ease restrictions aimed at curbing the virus' spread.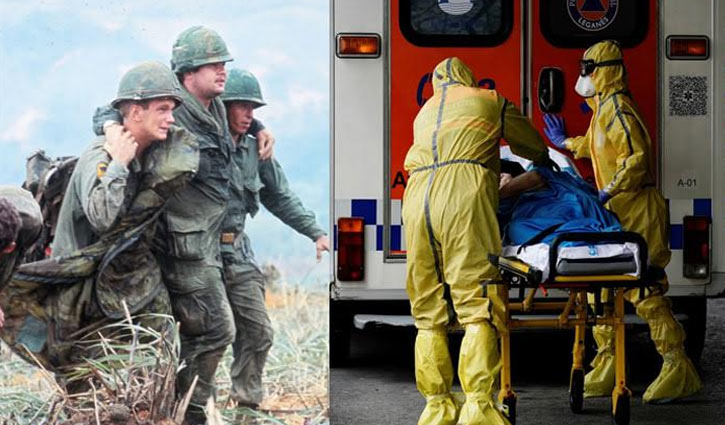 Scientists warn that dropping the measures too soon could bring new waves of COVID-19, which will only be defeated when an effective vaccine is developed and made widely available. Work on several experimental vaccines is racing forward at a pace never seen before, bringing hope that the world could have a real weapon against the new virus as soon as this fall. 
atest major developments:
Detailed information from the CDC on coronavirus treatment and prevention.

Britain to test 100,000 people to evaluate COVID-19 spread
Britain's health ministry announced plans to test a randomly chosen group of 100,000 people to evaluate how the coronavirus is spreading throughout its population, Reuters reported.
Next week, the government will also review the nationwide lockdown announced March 23, Reuters added. So far, more than 26,000 people have died of the virus in the country, according to data from Johns Hopkins University.
Controversial smartphone app tracks people who have been exposed to coronavirus
A new poll by the University of Maryland and Washington Post reveals that most Americans will not use smartphone apps to trace who has been exposed to COVID-19. These types of apps are up and running in Israel — but they have caused huge controversy.
More than 80% of hospitalized COVID-19 patients in Georgia last month were black, CDC study finds
A CDC study released Wednesday found that over 80% of the COVID-19 patients hospitalized in Georgia last month were black. It's the latest analysis showing that communities of color are being hit disproportionately hard by the coronavirus.
The study comes just days after Georgia Governor Brian Kemp started reopening some of the state's businesses — a move condemned as premature and dangerous by local black leaders as well as public health officials and even President Trump.
The study from the CDC, which is headquartered in Atlanta, surveyed eight hospitals in the state — seven in the Atlanta metro area and one southern Georgia. In the sample of 305 COVID-19 patients who were hospitalized in March, 247 — or 83.2% — were black. By comparison, 32 patients (10.8%) were white, 10 (3.4%) were Hispanic and eight (2.7%) were Asian or Pacific Islander.
"The proportion of hospitalized patients who were black was higher than expected based on overall hospital admissions," the study says.
The analysis found that black patients were not significantly more likely to require a ventilator or to die during their hospitalization. They also were not significantly more likely to have diabetes or cardiovascular disease, though data from other studies have shown black Americans in general are more likely to have those ailments, which may put them at higher risk of severe complications from COVID-19.
The study stressed the importance of considering racial groups hit harder by COVID-19 in the response to the crisis.
"It is critical that public health officials ensure that prevention activities prioritize communities and racial groups most affected by COVID-19," the study says.
Overall, African Americans make up more than 36% of confirmed coronavirus cases in Georgia, according to the state's health department, slightly higher than their 32% share of the state population. And Georgia is hardly alone in seeing its black residents suffer the highest toll.
In Maryland, black people are 31% of the population but nearly 45% of probable coronavirus deaths. In Louisiana, they are 33% of the population and 56% of deaths. Major cities including New York, Chicago, Detroit and Washington D.C. have also reported racial disparities in cases.
Georgia is one of the first states to start easing stay-at-home restrictions during the pandemic, with some businesses including gyms, hair salons and bowling alleys opening last Friday. Movie theaters and restaurants with dine-in service reopened this week.
The state's death toll from the virus crossed 1,000 on Tuesday. As of Wednesday evening, Georgia has reported at least 25,623 confirmed cases and 1,096 deaths. 
Atlanta Mayor Keisha Lance Bottoms told CBSN last week that she feared the governor's rush to reopen would prove to be "deadly" for many people in her community.
"What I've said is, I hope the governor is right and I'm wrong," she said. "Because if he's wrong, more people will die."
CBS News
Here is the latest Coronavirus update :
Reported Cases and Deaths by Country, Territory, or Conveyance
The coronavirus COVID-19 is affecting 210 countries and territories around the world and 2 international conveyances. The day is reset after midnight GMT+0. The list of countries and territories and their continental regional classification is based on the United Nations Geoscheme. Sources are provided under "Latest Updates". Learn more about Worldometer's COVID-19 data

Country,
Other
Total
Cases
New
Cases
Total
Deaths
New
Deaths
Total
Recovered
Active
Cases
Serious,
Critical
Tot Cases/
1M pop
Deaths/
1M pop
Total
Tests
Tests/
1M pop
World
3,219,424
+1,240
228,197
+167
1,000,293
1,990,934
59,811
413
29.3
USA
1,064,194
61,656
147,411
855,127
18,671
3,215
186
6,139,911
18,549
Spain
236,899
24,275
132,929
79,695
7,764
5,067
519
1,414,477
30,253
Italy
203,591
27,682
71,252
104,657
1,795
3,367
458
1,910,761
31,603
France
166,420
24,087
48,228
94,105
4,207
2,550
369
463,662
7,103
UK
165,221
26,097
N/A
138,780
1,559
2,434
384
818,539
12,058
Germany
161,539
6,467
120,400
34,672
2,415
1,928
77
2,547,052
30,400
Turkey
117,589
3,081
44,040
70,468
1,574
1,394
37
991,613
11,757
Russia
99,399
972
10,286
88,141
2,300
681
7
3,303,717
22,638
Iran
93,657
5,957
73,791
13,909
2,965
1,115
71
453,386
5,398
China
82,862
+4
4,633
77,610
619
41
58
3
Brazil
79,361
5,511
34,132
39,718
8,318
373
26
339,552
1,597
Canada
51,597
2,996
20,327
28,274
557
1,367
79
754,800
19,999
Belgium
47,859
7,501
11,283
29,075
797
4,129
647
226,724
19,563
Netherlands
38,802
4,711
N/A
33,841
804
2,265
275
213,372
12,453
Peru
33,931
943
10,037
22,951
623
1,029
29
296,262
8,985
India
33,062
1,079
8,437
23,546
24
0.8
770,764
559
Switzerland
29,407
1,716
22,600
5,091
185
3,398
198
260,500
30,100
Ecuador
24,675
883
1,557
22,235
146
1,399
50
61,529
3,487
Portugal
24,505
973
1,470
22,062
169
2,403
95
379,551
37,223
Saudi Arabia
21,402
157
2,953
18,292
125
615
5
200,000
5,745
Sweden
20,302
2,462
1,005
16,835
479
2,010
244
119,500
11,833
Ireland
20,253
1,190
13,386
5,677
129
4,102
241
153,954
31,179
Mexico
17,799
+1,047
1,732
+163
11,423
4,644
378
138
13
77,005
597
Israel
15,834
215
8,233
7,386
115
1,829
25
364,467
42,108
Singapore
15,641
14
1,188
14,439
22
2,674
2
143,919
24,600
Pakistan
15,525
343
3,425
11,757
111
70
2
165,911
751
Austria
15,402
580
12,779
2,043
131
1,710
64
247,754
27,509
Chile
14,885
216
8,057
6,612
377
779
11
172,619
9,030
Japan
13,895
413
2,368
11,114
306
110
3
164,255
1,299
Belarus
13,181
84
2,072
11,025
92
1,395
9
168,986
17,883
Poland
12,640
624
3,025
8,991
160
334
16
324,527
8,575
Qatar
12,564
10
1,243
11,311
72
4,361
3
91,415
31,730
Romania
11,978
693
3,569
7,716
247
623
36
166,993
8,681
UAE
11,929
98
2,329
9,502
1
1,206
10
1,122,000
113,443
S. Korea
10,765
+4
247
+1
9,059
1,459
55
210
5
619,881
12,091
Ukraine
9,866
250
1,103
8,513
129
226
6
104,544
2,390
Indonesia
9,771
784
1,391
7,596
36
3
86,985
318
Denmark
9,008
443
6,366
2,199
66
1,555
76
180,062
31,087
Serbia
8,724
173
1,292
7,259
78
998
20
78,942
9,035
Philippines
8,212
558
1,023
6,631
31
75
5
98,941
903
Norway
7,710
207
32
7,471
40
1,422
38
169,124
31,197
Czechia
7,579
227
3,108
4,244
71
708
21
234,985
21,943
Bangladesh
7,103
163
150
6,790
1
43
1.0
59,701
363
Australia
6,746
90
+1
5,685
971
38
265
4
551,000
21,608
Dominican Republic
6,652
293
1,228
5,131
144
613
27
25,368
2,339
Panama
6,378
+178
178
+2
527
5,673
92
1,478
41
29,837
6,915
Colombia
6,207
278
1,411
4,518
118
122
5
95,085
1,869
Malaysia
5,945
100
4,087
1,758
40
184
3
160,296
4,953
South Africa
5,350
103
2,073
3,174
36
90
2
197,127
3,324
Egypt
5,268
380
1,335
3,553
51
4
90,000
879
Finland
4,906
206
2,800
1,900
51
885
37
89,800
16,207
Morocco
4,321
168
928
3,225
1
117
5
32,930
892
Argentina
4,285
214
1,192
2,879
144
95
5
56,058
1,240
Algeria
3,848
444
1,702
1,702
22
88
10
6,500
148
Moldova
3,771
111
1,114
2,546
212
935
28
11,763
2,916
Luxembourg
3,769
89
3,134
546
21
6,021
142
41,758
66,708
Kuwait
3,740
24
1,389
2,327
66
876
6
179,000
41,915
Kazakhstan
3,138
25
819
2,294
41
167
1
232,415
12,378
Thailand
2,947
54
2,665
228
61
42
0.8
178,083
2,551
Bahrain
2,921
8
1,455
1,458
1
1,717
5
126,905
74,581
Hungary
2,727
300
536
1,891
50
282
31
70,300
7,277
Greece
2,576
139
577
1,860
41
247
13
72,130
6,920
Oman
2,274
10
364
1,900
3
445
2
Croatia
2,062
67
1,288
707
19
502
16
34,476
8,398
Iraq
2,003
92
1,346
565
50
2
86,708
2,156
Uzbekistan
2,002
9
1,096
897
8
60
0.3
242,536
7,247
Afghanistan
1,939
60
252
1,627
7
50
2
9,000
231
Armenia
1,932
30
900
1,002
10
652
10
20,189
6,813
Cameroon
1,832
61
934
837
12
69
2
Iceland
1,797
10
1,656
131
5,266
29
47,573
139,411
Azerbaijan
1,766
23
1,267
476
18
174
2
137,379
13,549
Nigeria
1,728
51
307
1,370
2
8
0.2
12,828
62
Bosnia and Herzegovina
1,677
65
710
902
4
511
20
29,130
8,879
Ghana
1,671
16
188
1,467
4
54
0.5
100,622
3,238
Estonia
1,666
50
236
1,380
10
1,256
38
51,188
38,588
New Zealand
1,476
+2
19
1,241
216
1
306
4
134,570
27,906
Cuba
1,467
58
617
792
14
130
5
45,344
4,003
Bulgaria
1,447
64
243
1,140
38
208
9
45,208
6,506
North Macedonia
1,442
73
627
742
13
692
35
16,050
7,704
Slovenia
1,418
89
230
1,099
25
682
43
51,607
24,824
Slovakia
1,391
22
484
885
8
255
4
81,338
14,898
Lithuania
1,375
45
563
767
17
505
17
118,201
43,420
Guinea
1,351
7
313
1,031
103
0.5
Ivory Coast
1,238
14
557
667
47
0.5
Djibouti
1,077
2
599
476
1,090
2
12,985
13,143
Bolivia
1,053
55
110
888
3
90
5
5,791
496
Hong Kong
1,038
4
830
204
4
138
0.5
145,640
19,426
Tunisia
980
40
294
646
20
83
3
22,062
1,867
Senegal
882
9
315
558
1
53
0.5
466
28
Latvia
849
15
348
486
4
450
8
54,811
29,059
Cyprus
843
15
148
680
15
698
12
53,219
44,079
Albania
766
30
455
281
4
266
10
8,028
2,790
Andorra
743
42
423
278
17
9,616
544
1,673
21,653
Honduras
738
66
73
599
10
75
7
3,643
368
Kyrgyzstan
729
8
437
284
10
112
1
50,775
7,783
Lebanon
721
24
150
547
44
106
4
32,446
4,754
Niger
713
32
435
246
29
1
5,148
213
Costa Rica
713
6
323
384
8
140
1
13,117
2,575
Diamond Princess
712
13
645
54
4
Sri Lanka
649
7
136
506
2
30
0.3
17,715
827
Burkina Faso
641
43
498
100
31
2
Uruguay
630
+5
15
412
203
11
181
4
19,016
5,474
Somalia
582
28
20
534
2
37
2
San Marino
563
41
69
453
6
16,592
1,208
2,235
65,869
Guatemala
557
16
62
479
5
31
0.9
7,200
402
Channel Islands
537
38
386
113
3,089
219
5,342
30,725
Georgia
517
6
178
333
6
130
2
12,593
3,157
DRC
491
30
59
402
5
0.3
Mali
482
25
129
328
24
1
2,172
107
Tanzania
480
16
167
297
7
8
0.3
Malta
463
4
339
120
1
1,049
9
31,736
71,875
Mayotte
460
4
235
221
4
1,686
15
2,700
9,897
Jordan
451
8
356
87
5
44
0.8
63,737
6,247
Taiwan
429
6
311
112
18
0.3
62,368
2,619
Réunion
420
300
120
2
469
Jamaica
396
7
29
360
3
134
2
3,993
1,348
Kenya
384
15
129
240
2
7
0.3
17,992
335
El Salvador
377
9
106
262
3
58
1
22,593
3,483
Sudan
375
28
32
315
9
0.6
Palestine
344
2
71
271
67
0.4
27,000
5,293
Mauritius
332
10
306
16
3
261
8
14,445
11,358
Venezuela
331
10
142
179
2
12
0.4
458,737
16,132
Montenegro
322
7
203
112
2
513
11
6,864
10,929
Equatorial Guinea
315
1
9
305
225
0.7
854
609
Isle of Man
313
21
258
34
21
3,681
247
3,049
35,857
Maldives
278
1
17
260
2
514
2
5,296
9,798
Gabon
276
3
67
206
1
124
1
724
325
Vietnam
270
222
48
8
3
212,965
2,188
Paraguay
239
9
102
128
1
34
1
8,891
1,247
Rwanda
225
98
127
17
8,464
653
Congo
207
8
19
180
38
1
Guinea-Bissau
205
1
19
185
104
0.5
1,500
762
Faeroe Islands
187
181
6
3,827
6,851
140,208
Martinique
175
14
83
78
5
466
37
Myanmar
150
6
27
117
3
0.1
7,718
142
Guadeloupe
149
12
82
55
11
372
30
Liberia
141
16
45
80
28
3
Gibraltar
141
131
10
4,185
2,198
65,240
Brunei
138
1
124
13
2
315
2
13,428
30,694
Ethiopia
130
3
58
69
1
0.03
16,434
143
Madagascar
128
90
38
1
5
3,107
112
French Guiana
125
1
93
31
419
3
Cambodia
122
119
3
1
7
11,905
712
Trinidad and Tobago
116
8
71
37
83
6
1,642
1,173
Cabo Verde
114
1
2
111
205
2
791
1,423
Bermuda
111
6
48
57
10
1,782
96
2,197
35,277
Togo
109
7
64
38
13
0.8
6,675
806
Sierra Leone
104
4
12
88
13
0.5
Aruba
100
2
73
25
4
937
19
1,649
15,445
Zambia
97
3
54
40
1
5
0.2
5,284
287
Monaco
95
4
58
33
1
2,421
102
Eswatini
91
1
10
80
78
0.9
714
615
Liechtenstein
82
1
55
26
2,151
26
900
23,605
Uganda
81
52
29
2
29,279
640
Bahamas
80
11
23
46
1
203
28
Barbados
80
7
39
34
4
278
24
2,005
6,977
Haiti
76
6
8
62
7
0.5
776
68
Mozambique
76
12
64
2
1,896
61
Sint Maarten
75
13
33
29
7
1,749
303
302
7,044
Guyana
74
8
15
51
5
94
10
464
590
Cayman Islands
73
1
10
62
3
1,111
15
1,535
23,356
Benin
64
1
33
30
5
0.08
Libya
61
2
18
41
9
0.3
1,623
236
French Polynesia
58
50
8
1
206
2,409
8,576
Nepal
57
16
41
2
57,189
1,963
Chad
52
2
19
31
3
0.1
CAR
50
10
40
10
Macao
45
34
11
1
69
Syria
43
3
21
19
2
0.2
Eritrea
39
19
20
11
Saint Martin
38
3
24
11
3
983
78
Mongolia
38
10
28
12
7,292
2,224
Malawi
36
3
7
26
1
2
0.2
744
39
South Sudan
34
34
3
Zimbabwe
32
4
5
23
2
0.3
6,834
460
Angola
27
2
7
18
0.8
0.06
Antigua and Barbuda
24
3
11
10
1
245
31
113
1,154
Timor-Leste
24
6
18
18
322
244
Botswana
23
1
5
17
10
0.4
6,016
2,558
Grenada
20
13
7
4
178
1,406
12,495
Laos
19
7
12
3
1,917
263
Belize
18
2
9
7
1
45
5
995
2,502
Fiji
18
12
6
20
1,007
1,123
New Caledonia
18
17
1
1
63
4,456
15,608
Saint Lucia
17
15
2
93
446
2,429
Curaçao
16
1
13
2
98
6
343
2,090
Dominica
16
13
3
222
383
5,320
Namibia
16
8
8
6
704
277
St. Vincent Grenadines
16
8
8
144
108
973
Saint Kitts and Nevis
15
4
11
282
293
5,508
Nicaragua
13
3
7
3
2
0.5
Falkland Islands
13
11
2
3,736
353
101,437
Turks and Caicos
12
1
5
6
310
26
83
2,144
Burundi
11
1
4
6
0.9
0.08
284
24
Montserrat
11
1
2
8
1
2,204
200
36
7,212
Greenland
11
11
0
194
1,200
21,138
Seychelles
11
6
5
112
Gambia
10
1
8
1
4
0.4
401
166
Suriname
10
1
8
1
17
2
404
689
Vatican City
10
2
8
12,484
MS Zaandam
9
2
7
Mauritania
8
1
6
1
2
0.2
1,032
222
Papua New Guinea
8
8
0.9
604
68
Sao Tome and Principe
8
4
4
37
19
87
Bhutan
7
5
2
9
9,865
12,785
British Virgin Islands
6
1
3
2
198
33
St. Barth
6
6
0
607
Western Sahara
6
5
1
10
Yemen
6
1
5
0.2
120
4
Caribbean Netherlands
5
5
191
110
4,195
Anguilla
3
3
0
200
Saint Pierre Miquelon
1
1
173
Total:
3,219,424
+1,240
228,197
+167
1,000,293
1,990,934
59,811
413.0
29.3