House passes $2.2T rescue package, rushes it to Trump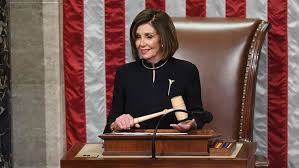 By ANDREW TAYLOR, ALAN FRAM and LAURIE KELLMAN17 minutes ago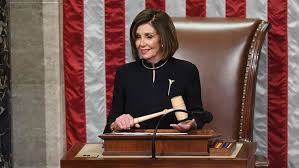 WASHINGTON (AP) — Acting with exceptional resolve in an extraordinary time, the House rushed President Donald Trump a $2.2 trillion rescue package Friday, tossing a life preserver to a U.S. economy and health care system left flailing by the coronavirus pandemic. 
The House approved the sweeping measure by a voice vote, as strong majorities of both parties lined up behind the most colossal economic relief bill in the nation's history. It will ship payments of up to $1,200 to millions of Americans, bolster unemployment benefits, offer loans, grants and tax breaks to businesses large and small and flush billions more to states, local governments and the nation's all but overwhelmed health care system.
"Today we've all acknowledged our nation faces an economic and health emergency of historic proportions," said House Speaker Nancy Pelosi.
President Donald Trump said he would sign the bill immediately.
THIS IS A BREAKING NEWS UPDATE. AP's earlier story is below.
With exceptional resolve in an extraordinary time, the House on Friday debated a $2.2 trillion package tossing a life preserver to a U.S. economy and health care system left flailing by the coronavirus pandemic, even as one maverick Republican threatened leaders' plans for swift passage.
Democratic and Republican leaders were working in tandem and hoping to quickly pass the measure by voice vote to accommodate members scattered around the country and reluctant to risk flying back to the Capitol. There were hand sanitizers at the end of each aisle in the chamber, where most lawmakers sat scattered apart from one another.
There was no doubt the House would give overwhelming final congressional approval to the largest economic bailout legislation in U.S. history. For the most part, Democrats who saw a taxpayer giveaway to big business and Republicans who considered it ladened with waste were set to back the measure for the greater good of keeping the economy alive. 
But libertarian Rep. Thomas Massie, R-Ky., was threatening to slow action by demanding a roll call vote. That would force many lawmakers to make the journey to Washington to cast a vote on legislation that is certain to pass anyway, and it infuriated President Donald Trump and lawmakers from both parties.
Trump, who is certain to sign the legislation, tweeted that Massie is "a third rate Grandstander" and said he should be drummed out of the GOP. "He is a disaster for America, and for the Great State of Kentucky!" Trump wrote.
Massie, who opposes the massive bill, was in the chamber during the debate, chatting occasionally with others and checking his phone. He did not respond to reporters' repeated efforts to reach him. Posting on Twitter, he cited a section of the Constitution that requires a majority of lawmakers — some 216 of them — to be present and voting to conduct business.
The debate was mostly conciliatory, with members of both parties praising the measure as a rescue for a ravaged nation. The lecturns in the chamber's well were wiped down between many of the speeches.
"While no one will agree with every part of this rescue bill, we face a challenge rarely seen in America's history. We must act now, or the toll on lives and livelihoods will be far greater," said Rep. Kevin Brady, R-Texas.
"We have no time to dither," said Rep. Gerald Connolly, D-Va. "We have no time to engage in ideological or petty partisan fights. Our country needs us as one."
But still, there were outbursts.
Freshman Rep. Haley Stevens, D-Mich., donned pink latex gloves and yelled well beyond her allotted one minute, saying she was speaking "not for personal attention but (to encourage you) to take this disease seriously." Much of what she said could not be heard above Republican shouts. 
AP