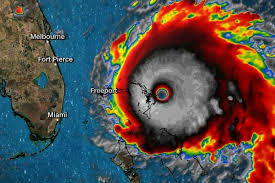 Hurricane Dorian caused "extensive damage" across the Bahamas, the Red Cross said Monday, warning that as many as 13,000 houses may have been severely damaged or destroyed.
"We don't yet have a complete picture of what has happened," Sune Bulow, head of the International Federation of Red Cross and Red Crescent Societies (IFRC) Emergency Operation Centre in Geneva, said in a statement.
"But it is clear that Hurricane Dorian has had a catastrophic impact," he said, adding that "we anticipate extensive shelter needs, alongside the need for short-term economic support, as well as for clean water and health assistance".
Hurricane Dorian battered the Bahamas with ferocious wind and rain on Sunday, the monstrous Category 5 storm wrecking towns and homes as it churned on an uncertain path toward the US coast where hundreds of thousands were ordered to evacuate.
There was no immediate word on casualties in the low-lying islands.
But IFRC said that up to 13,000 houses may have been severely impacted.
The organisation also warned that extensive flooding on the island of Abaco was believed to have contaminated wells with saltwater.
Three US states order coastal evacuations
Packing sustained winds of 185 miles per hour (295 kilometres per hour), Dorian crashed onshore in the Abacos Islands, in the northwest of the Bahamas, as the strongest storm ever to hit the Caribbean chain.
After days of nerve-wracking uncertainty surrounding the storm's path, the southeastern US states of Florida, Georgia and South Carolina finally ordered coastal residents to evacuate in a mass exodus set to affect hundreds of thousands of people.
South Carolina Gov. Henry McMaster ordered a mandatory evacuation of the entire coast of the state amid Dorian's threat.
'East Coast of US watching nervously'
"We can't make everybody happy," McMaster said. "But we believe we can keep everyone alive."
Georgia's governor, Brian Kemp, later ordered mandatory evacuations of that state's Atlantic coast, also starting at midday Monday.
Authorities in Florida also ordered mandatory evacuations in some vulnerable coastal areas.
The American Red Cross estimated that some 19 million people live in areas that could be impacted by the storm, with as many as 50,000 people in Florida, Georgia and South Carolina potentially in need of emergency shelter, depending on the impact.
IFRC said that hundreds of Red Cross volunteers, emergency response vehicles and more than 30 truck loads of relief supplies were being mobilised to help people living in the path of the hurricane.
Where streets and the ocean begin
The Bahamas archipelago is no stranger to hurricanes. Homes are required to have metal reinforcements for roof beams to withstand winds into the upper limits of a Category 4 hurricane, and compliance is generally tight for those who can afford it. Risks are higher in poorer neighborhoods, with wooden homes in low-lying areas.
In the northern stretches of the archipelago, hotels closed, residents boarded up homes and officials hired boats to move people to bigger islands.
Video that Jibrilu and government spokesman Kevin Harris said was sent by Abaco residents showed homes missing parts of their roofs, downed power lines and smashed and overturned cars. One showed floodwaters rushing through the streets of an unidentified town at nearly the height of a car roof.
In some parts of Abaco, "you cannot tell the difference as to the beginning of the street versus where the ocean begins," said Prime Minister Hubert Minnis.
According to the Nassau Guardian, he called it "probably the most sad and worst day of my life to address the Bahamian people."
Earlier, Minnis had warned that anyone who did not evacuate was "in extreme danger and can expect a catastrophic consequence."
The government opened 14 shelters across the Bahamas. Dozens ignored evacuation orders, officials said.
"The end could be fatal," said Samuel Butler, assistant police commissioner. "We ask you, we beg you, we plead with you to get to a place of safety."
Bahamas radio station ZNS Bahamas reported a mother and child in Grand Bahama called to say they were sheltering in a closet and seeking help from police.
Silbert Mills, owner of the Bahamas Christian Network, said trees and power lines were torn down in Abaco.
"The winds are howling like we've never, ever experienced before," said Mills, 59, who planned to ride out the hurricane with his family in the concrete home he built 41 years ago in central Abaco.
(FRANCE 24 with AFP and AP)