UN Security Council to meet Wednesday to discuss Hezbollah tunnels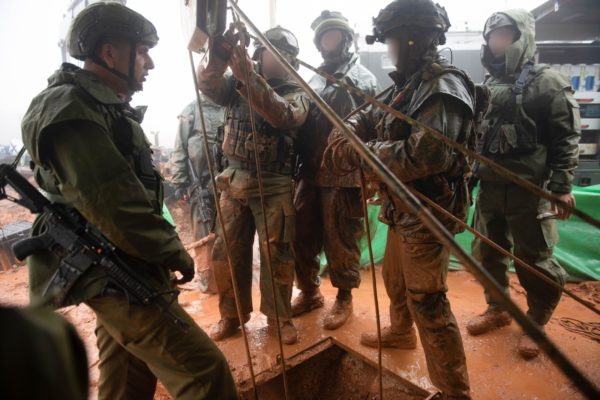 The UN Security Council is scheduled to meet next Wednesday – at the request of the US – to discuss Hezbollah's  alleged cross-border  tunnels, Israel's ambassador to the UN Danny Danon said on Thursday.
Lebanon, which has sent a letter of protest to the Security Council over Israel's actions – including SMS warnings to residents of south Lebanon to stay clear of the tunnels – is also expected to take part in the meeting. Lebanon  has repeatedly protested Israeli violations of its airspace .
Danon reportedly said that Israel has no expectation that the Security Council will pass a resolution condemning Hezbollah, but that one of the aims of the meeting is to get the council to define Hezbollah as a terrorist organization. A draft resolution on this matter is being prepared.
"Israel will expose Hezbollah's terror operations and its blindfolding of the Lebanese government, under whose responsibility Hezbollah built a terrorist operation underground," Danon said. "We must use every measure against Hezbollah to silence it and destroy its military and terror apparatus."
After the council convenes, Prime Minister Benjamin Netanyahu  will  reportedly speak with UN Secretary-General António Guterres and "demand" that he condemn Hezbollah's "violation of Israeli sovereignty," according to an Israeli official.
France, which historically has a close relationship with Lebanon issued a statement expressing its concern about the tunnels, calling this a violation of UN Security Council resolution 1701 that called for a ceasefire along the Lebanon-Israel border.
The United States rejected  Israel's request to impose sanctions on Lebanon and the Lebanese army so they would take responsibility for Hezbollah digging tunnels into Israel and violating UN Resolution 1701, Israeli daily Haaretz reported on Tuesday.
Israeli Prime Minister Benjamin Netanyahu  reportedly requested sanctions when he met with U.S. Secretary of State Mike Pompeo in Brussels last week. While the United States  rejected  Israel's request  against  the Lebanese state, it agreed to draw up harsh sanctions that would put pressure on the group, which is struggling financially, the report added.
Since the launching of Operation Northern Shield against the tunnels   , Israeli political and military leaders have been trying to make it look as if Lebanon and Hezbollah were one and the same. From the start, the IDF spokesman has been stating that "the responsibility for the tunnel digging by Hezbollah in southern Lebanon rests with the Lebanese government."
But the Americans rejected Israel's linking of Hezbollah to the Lebanese state, saying that despite Israel's right to defend itself, the problem is Hezbollah – therefore the agreement for sanctions against the organization directly. Washington made  it clear that the United States and Lebanon have close military ties and there is no interest in undermining them.