Israel claims discovery of fourth Hezbollah tunnel and packed it with explosives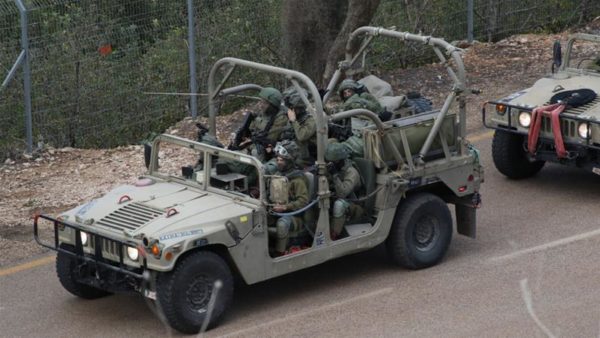 The Israeli military says it has uncovered another tunnel used by Hezbollah militants to infiltrate the country from Lebanon.
It's the fourth such tunnel to be found since the Israel Defense Forces (IDF) announced Operation Northern Shield, the goal of which is to find and destroy Hezbollah tunnels, earlier this month.
 Israeli authorities have examined the tunnel to learn more about its route, and it has since been packed with explosives ahead of its neutralization."The route, just like the other routes [tunnels], is booby-trapped by the IDF and anyone who enters it on the Lebanese side endangers his life," the IDF said in a tweet.
"Imagine terrorists digging an attack tunnel like this towards your home. Hacking away inch by inch underground in order to kill you and your family," the IDF said in another tweet accompanied by a video showing the interior of the tunnel.
Israeli Prime Minister Benjamin Netanyahu says the tunnel was discovered Sunday morning.
"Our operation to deprive Hezbollah of the tunnels is advancing according to plan and will continue until he has achieved all its objectives," Netanyahu said in a tweet in Hebrew.
Hezbollah, which has been accused of using tunnels to infiltrate Israel since the 2006 Israel-Hezbollah war has not commented on the allegations.
Caretaker Foreign Minister Gebran Bassil visited the border area in Marjayoun Sunday, expressing support for the Lebanese Army.
"Lebanon is protected by its Army and resistance," Bassil said in a tweet. "And what is more important is that Lebanon is protected by its diversity and pluralism that defeat the unilateralism and racism of Israel."
The Israeli army meanwhile continued excavations near the Fatima Gate, the former border crossing in Marjayoun's Kfar Kila, with Israeli flags posted in the now militarized zone.
Israeli excavations also resumed east of Mais al-Jabal after the Israeli army last week briefly withdrew its excavators from the area. Five excavators accompanied by Israeli soldiers deployed in Mais al-Jabal as UNIFIL peacekeepers monitored the situation.
The Lebanese Army  boosted its presence in the area, erecting a metal barrier out of fear that visitors to the border would unknowingly cross into Israel.
According to National News Agency, UNIFIL spokesperson Andrea Tenenti said that the Israeli army had informed UNIFIL of the fourth tunnel. Tenenti was quoted as saying that the U.N. peacekeeping mission was "fully engaged with all sides to ensure stability in the area."
UNIFIL has confirmed the existence of two tunnels in the border region since Israel launched Operation Northern Shield on Dec. 4 to find and destroy the "Hezbollah attack tunnels," though the U.N. mission did not say who had dug them.
The Israeli tunnel-destruction operation has heightened tensions along the border, where Lebanese soldiers have visibly been on high alert and United Nations peacekeepers have been stationed.
Lebanese prime minister-designate Saad Hariri said the Lebanese army was awaiting a full report from the UN on the matter.
Earlier this month, Hezbollah's second-in-command claimed that the Shiite militant group's missiles are capable of striking anywhere in Israel.
Deputy Secretary-General Sheikh Naim Qassem told Iranian Arabic-language newspaper al-Vefagh that Hezbollah was not looking to start a war with Israel but would respond to any Israeli aggression with force
The UN Security Council is scheduled to meet next Wednesday – at the request of the US – to discuss Hezbollah's  alleged cross-border  tunnels, Israel's ambassador to the UN Danny Danon said on Thursday.
After the council convenes, Prime Minister Benjamin Netanyahu  will  reportedly speak with UN Secretary-General António Guterres and "demand" that he condemn Hezbollah's "violation of Israeli sovereignty," according to an Israeli official.
Destruction of Lebanon
Israeli  President Reuven Rivlin told Israel Defense Forces soldiers Sunday that  Hezbollah  will drag Lebanon into war with Israel, "ultimately leading to its destruction."
He made the statement   hours after the IDF announced it had located another Hezbollah cross-border attack tunnel as  he was touring the tunnel-busting operation along the northern border,stressing that  Israel will do 'whatever it takes to defend itself''.
"We are warning Hezbollah not to impose an Iranian agenda on Lebanon, or to use it to attack Israel," he said. "The IDF is prepared and ready to respond to any scenario forced upon us."
"Hezbollah, which presents itself as the 'defender of Lebanon,' will ultimately lead to its destruction," he warned.
Agencies