Trump's future chief of staff calls him 'terrible human being' in video from 2016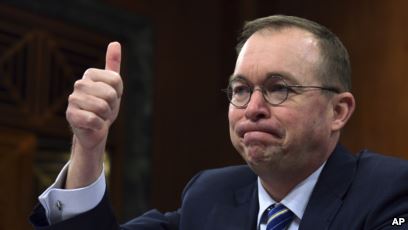 President Donald Trump's budget director and soon-to-be acting chief of staff, Mick Mulvaney, called Trump "a terrible human being" during a campaign debate in 2016.
In a video posted by The Daily Beast, Mulvaney said at the debate with his then-Democratic challenger for South Carolina's 5th Congressional District seat, Fran Person, that he was supporting Trump for president, albeit reluctantly.
"Yes, I'm supporting Donald Trump," the incumbent Republican, who later won reelection, says in the video. "I'm doing so as enthusiastically as I can, given the fact that I think he's a terrible human being, but the choice on the other side is just as bad."
During the transition, Trump tapped Mulvaney to be director of the White House Office of Management and Budget. On Friday, Trump also named him to take over as acting chief of staff at the end of the year after John Kelly leaves the administration.
"Mick has done an outstanding job while in the Administration," Trump wrote in a tweet Friday.
"I look forward to working with him in this new capacity as we continue to MAKE AMERICA GREAT AGAIN!" he added in a follow-up tweet. "John will be staying until the end of the year. He is a GREAT PATRIOT and I want to personally thank him for his service!"
The White House did not immediately respond to CNN's request for comment Saturday on Mulvaney's remarks in 2016.
The Herald newspaper in South Carolina reported Mulvaney's debate remarks at the time.
"We have perhaps two of the most flawed human beings running for president in the history of the country," Mulvaney said, referring to Trump and his Democratic rival, Hillary Clinton, the newspaper reported.