France: Riot police fire tear gas as 30,000 protestors furious at Macron over fuel prices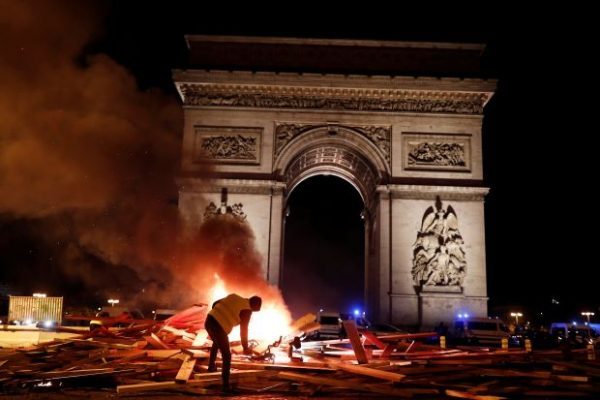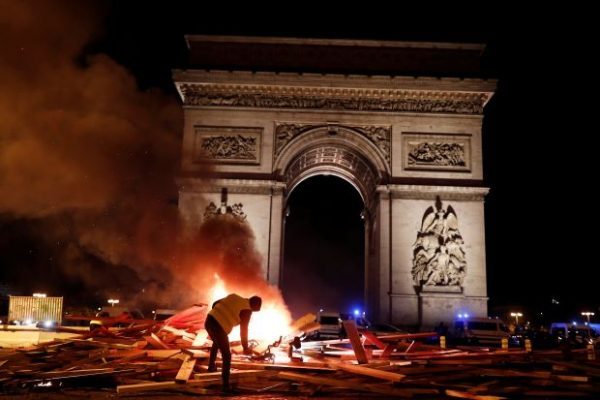 TEAR gas and water cannons have been fired by riot police in France amid a desperate struggle to control violent protests of more than 30,000 residents angry at President Emmanuel Macron over rising fuel prices.
French police locked horns with thousands of angry protesters who stormed the streets with placards wearing yellow vests before hurling objects at riot police and starting fires. Shocking images show demonstrators waving an array of flags and ramming metal barriers into police, with some being dragged away from the scene by officers. Paris is currently under a fog of tear gas, with demonstrators also being targeted with water cannons to fire at police. Officers are also seen edging closer to protestors using a wall of their shields.
A trailer was set on fire and exploded on the Champs Elysees and a man who tried to attack fire fighters was overpowered by some of the demonstrators themselves.
On the nearby Avenue de Friedland, police fired special rubber balls at protesters to control rioters.
Riot police arrested 22 people in Paris and at protests in other parts of the country.
Two people have been killed in the protests so far, including a 62-year-old woman who was run over by a motorist who panicked after her car was surrounded by demonstrators.
A poll this week indicated that 73 percent of people in France have expressed support for the protests, which have been characterised as a grassroots movement lacking in clear leadership.
Mr Macron admitted failing to "reconcile the French with their leaders" and had "not given them enough consideration" but is standing firm and refusing to back the fuel taxes.
Interior Minister Christophe Castaner accused far-right leader Marine Le Pen of fanning the protests in the capital.
He said: "The ultra-right is mobilised and is building barricades on the Champs Elysees. They are progressively being neutralised and pushed back by police."
In a message on Twitter, Le Pen said she had questioned why no protests were being allowed in the area.
She said: "Today Mr Castaner is using this to target me. This is low and dishonest."
EXPRESS.CO.UK