Venezuela government guilty of 'worst human rights crisis in its history': Amnesty International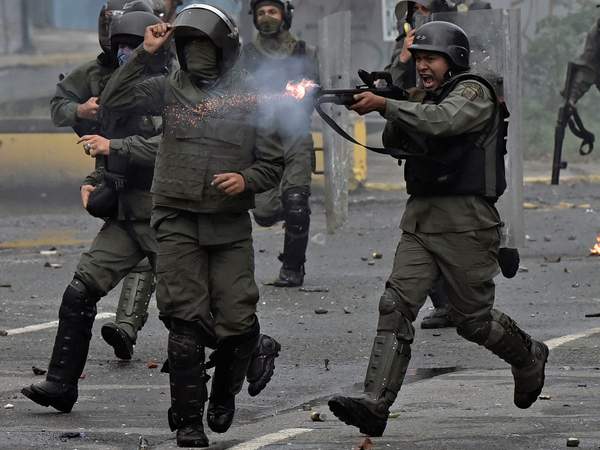 Venezuela's government is responsible for the "worst human rights crisis in its history", Amnesty International has said in a new report.
The organisation claimed several human rights abuses had taken place the South American country, including the use of lethal force against the most vulnerable in its society.
Its report argued that the Venezuelan government had failed to protect its people and has implemented deadly and repressive measures.
 It said 8,292 extrajudicial executions taking place between 2015 and 2017.
It also found 4,667 (22 per cent) of homicides in 2016 were at the hands of security officials. Males made up 95 per cent of murder victims, and of those 60 per cent were between 12 and 29 years old.
The report also looked at the alarming levels of economic insecurity in the country and found 87 per cent of people live in poverty.
It also found a 65 per cent increase in maternal mortality and a 30 per cent increase in infant mortality.
Amnesty argued its report shows how the government has failed to prevent armed violence and investigate other human rights violations.
Instead, it said, Venezuelan authorities have publicly stated that killing people in the context of security operations is a successful practice.
A combination of human rights abuses and lack of security has led to a dramatic increase in the number of people flooding into nearby countries, Amnesty said.
The United Nations estimates 2.3 million people have left Venezuela since 2014.
Venezuela, which was once a wealthy oil-producing nation, has been wracked by severe food and medicine scarcity after two decades of socialist rule.
Amnesty called on the country's president, Nicolas Maduro, to guarantee his citizens right to life.
"Venezuela is going through one of the worst human rights crises in its history. The list of crimes under international law against the population is growing," Erika Guevara-Rosas, Amnesty's Americas director, said:
"It is alarming that, instead of applying efficient public policies to protect people and reduce levels of insecurity, the Venezuelan authorities are using the language of war to try to legitimise the use of excessive force by police and military officials and, in many cases, the use of lethal force with intent to kill."
She added: "The government of President Maduro should guarantee the right to life, instead of taking the lives of the country's young people. The government must urgently launch a national programme to reduce homicides and effectively implement a policing model that includes guidelines on the proportional and differentiated use of force and firearms that fully comply with international human rights norms and standards."
The Independent has contacted the Venezuelan Embassy in London for comment.
The Independent