My rabbi, Danny Zemel, comes from Zionist royalty: His grandfather, Rabbi Solomon Goldman, led the Zionist Organization of America in the late 1930s, and presided over the World Zionist Convention in Zurich in 1939. So Zemel's words carried weight when he told his flock this week on Kol Nidre, the holiest night of the Jewish year, that "the current government of Israel has turned its back on Zionism."
"My love for Israel has not diminished one iota," he said, but "this is, to my way of thinking, Israel's first anti-Zionist government."
He recounted Israel's transformation under Benjamin Netanyahu: the rise of ultranationalism tied to religious extremism, the upsurge in settler violence, the overriding of Supreme Court rulings upholding democracy and human rights, a crackdown on dissent, harassment of critics and nonprofits, confiscation of Arab villages and alliances with regimes — in Poland, Hungary and the Philippines — that foment anti-Semitism. The prime minister's joint declaration in June absolving Poland of Holocaust culpability, which amounted to trading Holocaust denial for good relations, earned a rebuke from Yad Vashem, Israel's Holocaust memorial.
"The current government in Israel has, like Esau, sold its birthright," Zemel preached.
Similarly anguished sentiments can be heard in synagogues and in Jewish homes throughout America. For 70 years, Israel survived in no small part because of American Jews' support. Now we watch in horror as Netanyahu, with President Trump's encouragement, leads Israel on a path to estrangement and destruction.
Both men have gravely miscalculated. Trump seems to think support for Netanyahu will appeal to American Jews otherwise appalled by his treatment of immigrants and minorities. (Trump observed Rosh Hashanah last week by ordering the Palestinian office in Washington closed, another gratuitous blow to the moribund two-state solution that a majority of American Jews favor.) But his green light to extremism does the opposite.
Netanyahu, for his part, is dissolving America's bipartisan pro-Israel consensus in favor of an unstable alliance of end-times Christians, orthodox Jews and wealthy conservatives such as Sheldon Adelson.
The two have achieved Trump's usual result: division. They have split American Jews from Israelis, and America's minority of politically conservative Jews from the rest of American Jews.
A poll for the American Jewish Committee in June found that while 77 percent of Israeli Jews approve of Trump's handling of the U.S.-Israeli relationship, only 34 percent of American Jews approve. Although Trump is popular in Israel, only 26 percent of American Jews approve of him. Most Jews feel less secure in the United States than they did a year ago. (No wonder, given the sharp rise in anti-Semitic incidents and high-level winks at anti-Semitism, from Charlottesville to Eric Trump's recent claim that Trump critics are trying to "make three extra shekels.") The AJC poll was done a month before Israel passed a law to give Jews more rights than other citizens, betraying the country's 70-year democratic tradition.
"We are the stunned witnesses of new alliances between Israel, Orthodox factions of Judaism throughout the world, and the new global populism in which ethnocentrism and even racism hold an undeniable place," Hebrew University of Jerusalem sociologist Eva Illouz wrote in an article appearing this week on Yom Kippur in Israel's Haaretz newspaper titled "The State of Israel vs. the Jewish people."
Netanyahu has undertaken "a profound shift in the state's identity as a representative of the Jewish people to a state that aims to advance its own expansion through seizure of land, violation of international law, exclusion and discrimination," she wrote. Israel "will be able to count only on the support of a handful of billionaires and the ultra-Orthodox" in America. "Trumpism is a passing phase in American politics. Latinos and left-wing Democrats will become increasingly involved in the country's politics, and as they do, these politicians will find it increasingly difficult to justify continued American support of Israeli policies that are abhorrent to liberal democracies. Unlike in the past, however, Jews will no longer pressure them to look the other way."
I fear she is correct.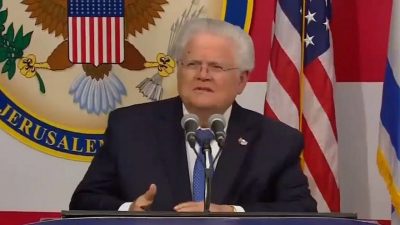 Netanyahu is betting Israel's future on people such as Pastor John Hagee of Christians United for Israel, featured at the ceremony for Trump's opening of the Jerusalem embassy. Hagee once said "Hitler was a hunter" sent by God to drive Jews to Israel. Pro-Israel apocalypse-minded Christians see Israel as a precursor to the second coming, when Jews must convert or go to hell.
Netanyahu's moves toward authoritarianism and away from negotiated peace also make it more difficult for traditional liberal supporters of Israel to counter the left's Boycott, Divest and Sanction movement, founded by Palestinians and tainted by anti-Semitism. Jeremy Ben Ami, who runs the liberal pro-Israel group J Street, says "the splits happening on the left are very troublesome."
American Jews can't appreciate the daily threat Israelis face from Hamas and Hezbollah. But if the answer is an ultranationalist apartheid state, American Jews have a duty to tell Israelis that support cannot be sustained here — nor should it be.
WASHINGTON POST