Constitutional dispute emerges over Lebanon parliament functions in absence of cabinet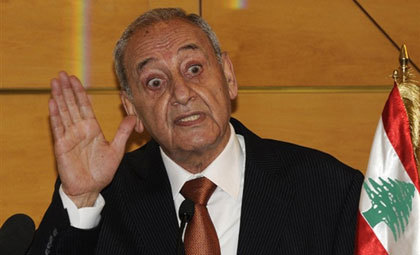 The persistence of Lebanon's Speaker Nabih Berri to call for legislative sessions has lately triggered a constitutional dispute over the capacity of the House to convene for legislation in the presence of a caretaker cabinet.
Signs of such dispute emerged when the Mustaqbal Movement expressed reservations vis-à-vis the Speaker's calls, while other blocs refused to comment on the move before a date is set for the start of such sessions.
Last May, Prime Minister-designate Saad Hariri was tasked with forming a new Cabinet. But since then, Hariri's mission was faced with disputes among the country's political forces over the shares of ministerial seats they will receive.
Sources close to Berri told Asharq Al-Awsat on Thursday that the Speaker was determined to break the disruption of the work of constitutional institutions.
"Lebanon is currently under the microscope of the international community, which stands astonished facing the Lebanese indifference towards the disruption of institutions," the sources said.
They also said that laws, directly linked to the CEDAR conference, need to be implemented as soon as the government is formed.
Last April, the international community pledged to offer Lebanon $11 bn to prevent it from going bankrupt. But, the billions depend on a series of fiscal and economic reforms, which should be introduced by the next cabinet.
The sources refused claims saying some main political forces would be neglected when Parliament convenes for legislation.
"Will Parliament legislate laws to benefit the south of Lebanon and not the north? Will the passed laws profit a certain section of the Lebanese without another?" Berri's sources asked.
Meanwhile, a report saying Lebanese employees working in government administrations were violating laws and were not showing up at work was added to the pile of files linked to corruption in the public sector.
Researcher at Information International Mohammed Shamseddine said that the salaries of civil servants constitute currently more than a third of the public budget, estimated at around $8 billion per year.
Asharq Al-Awsat