US 'extends Lebanon sanctions over Hezbollah, Iran ties
The United States has  extended sanctions imposed on Lebanon since 2007 for another year, the White House announced on Saturday.
The White House explained in a statement that  president Donald Trump made the decision because "Iran continues to supply arms to Hezbollah."
In a letter to the US Congress, Trump said "Iran was supplying its allies in Lebanon with increasingly sophisticated weapons."
Washington says "these sanctions were imposed on those who undermine sovereignty and democracy in Lebanon, organize violence for political reasons and contribute to Syria's influence on Lebanese territory."
Under Executive Order 13441, Washington announced in 2007 that sanctions would be imposed on Lebanon as a result of "international threats posed by Hezbollah," according to the United States.
Hezbollah is fighting alongside the Syrian regime of President Bashar Assad.
Aoun criticizes US  over Iran  deal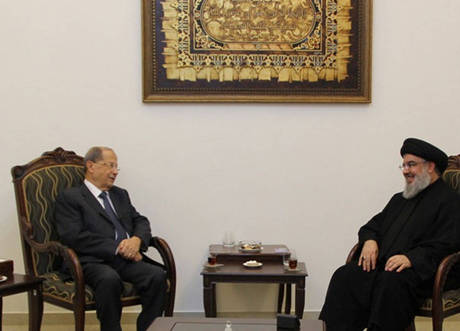 Trump's decision to extended sanctions imposed on Lebanon comes nearly 2 weeks after  Lebanese President Michel Aoun criticized  U.S. withdrawal from world powers' 2015 nuclear deal with Iran claiming that such an action will have  negative consequences for Middle East stability.
Aoun is a political ally of Lebanon's Iran-backed Hezbollah militant group.
The United States classifies Hezbollah as a terrorist organization
"The unilateral U.S. withdrawal from the nuclear agreement (in May) will have negative repercussions for security and stability in the region," Aoun wrote July 16  on Twitter, his first public comment on the accord.
Trump withdrew Washington from the deal in May, calling it deeply flawed, and has reimposed stringent U.S. sanctions, heaping pressure on other signatories including major European allies to follow suit.
Iranian Rial falling
The probable return of sanctions has triggered a rapid fall of Iran's currency, protests by bazaar traders usually loyal to the Islamist rulers, and a public outcry over alleged profiteering.
The Iranian rial plunged to a record low against the U.S. dollar on the unofficial market on Saturday. The dollar was offered for as much as 97,500 rials, compared to about 85,500 a week ago .
The currency has lost more than half of its value this year because of a weak economy, financial difficulties at local banks and heavy demand for dollars among Iranians who fear the effects of sanctions.