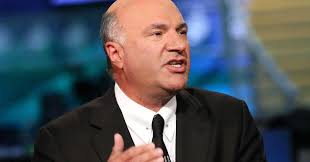 On TV, Kevin O'Leary is a staunchly money-driven businessman known for his big investments and blunt off-the-cuff remarks. But when the cameras are off, the multimillionaire is a proud family man who has passed down his Lebanese values to his children.
O'Leary is best known for his role in the ABC television series Shark Tank, where he is one of five 'shark' investors who listen to entrepreneur pitches and choose whether or not to invest in their startups. He is also the co-founder of the billion-dollar tech company SoftKey Software Products.
The Canadian-born businessman was raised by an Irish salesman father and Lebanese businesswoman mother. He spoke candidly to Lebanese Examiner about his rapid success in the world of business, and how his Lebanese values still carry on to this day.
"Lebanese culture is one of the most successful entrepreneurial cultures on earth," O'Leary says. "I'm very proud to say that because it's true."
All In the Family Business
Growing up, O'Leary was surrounded by business and hard work. His grandfather immigrated to Montreal, Canada from Hasbaya, Lebanon and built a successful clothing manufacturing company called Kiddie Togs.
"That's how I learned family values, and I think those things are very important," O'Leary says. "You don't realize that until you get older. The work ethic in Lebanese families is legendary."
"My mother Georgette was one of the most influential people in my career," O'Leary says. "To this day, her wisdom and advice guide me in almost every business choice I make."
The O'Leary home valued family. Sunday dinners were an important part of his life growing up, and it started a special tradition that continues today.
Lebanese DNA
O'Leary once lived in Cyprus, and would visit Beirut often in the sixties before troubles broke out in the region. His experience in global investments have taken him around the world – and he always finds a Lebanese friend with an incredible business story.
"Lebanese are very smart investors," he says. "If you go to any city in the world, you're going to find that the core Lebanese community is very successful. Very often, they own all the real estate in town and lots of different businesses."
Through his travels, he always finds a good Lebanese meal, too.
"It's no surprise to me when I go to South America, Cambodia, Europe, wherever, I always go for a good meal," he says. "I look for a good Lebanese restaurant."
The entrepreneurial spirit flows through the Lebanese blood, he adds. Today, when he lectures at universities all over North America, he shares these stories with American and Canadian students.
"Some of us are born to create wealth, and others are meant to work there," O'Leary says. "That's just the way it is. They are both noble pursuits, but Lebanese have built businesses, they take risks and they support their families – they have a cultural disposition to do that."
O'Leary believes his grandmother and mother played a central role in his career. He calls them "powerful matriarchs," and says they exist in every Lebanese family.
"I'm a big supporter of women entrepreneurs – women are very good at business," he adds. "I think the Lebanese culture was one of the first to support the concept of matriarchal values."
LEBANESE EXAMINER