Hezbollah chief urges Lebanon to reject US sanctions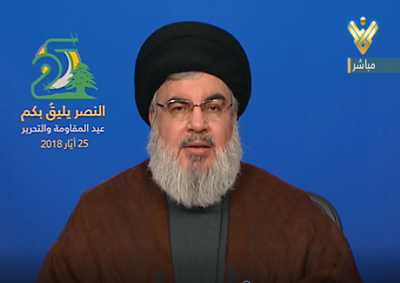 The leader of Lebanon's Hezbollah militant group  has called on the Lebanese state to stand up for citizens being slapped with sanctions by the United States.
Speaking in a televised address Friday, Hassan Nasrallah says the new government, which prime minister Saad Hariri has been appointed to form, cannot "turn its back" on those individuals.
The U.S., which considers the Iranian-backed militant Hezbollah group to be a terrorist organization, has been imposing sanctions on the group for decades. The U.S. and its Arab allies however have issued a new wave of sanctions this month that targeted the group's top leadership, as well as businessmen and companies that Washington says are funding the group.
Commenting on the latest wave of sanctions against his group, Nasrallah said: "The U.S. and Saudi sanctions against me and my brothers do not have material effect, seeing as we don't have money in banks, but the aim is to scare people of meeting with us."
"Placing some names and firms on terrorism lists harms some people and businessmen and the Lebanese state must protect the interests of these people because they are Lebanese citizens," he added.
"This is a U.S.-Israeli course and the Gulf states are taking part in it and this issue needs a discussion seeing as the state and the government are responsible for these Lebanese," Nasrallah went on to say.
He said the objectives behind the sanctions are "putting pressure on the resistance's social incubator, scaring the allies and pushing them away from the resistance, and also drying up the resistance's funding sources."
War with Israel
Nasrallah announced Friday that his group is not seeking a new war with Israel
"We are not seeking war but we do not fear it and I'm confident of victory in any upcoming war," Nasrallah said in his  televised address marking Lebanon's Resistance and Liberation Day.
Turning to the issue of the formation of a new government in Lebanon, he  denied reports that it wants a so-called sovereign ministerial portfolio  (  defense, foreign affairs, finance and interior ) in the new government but called for speedy formation
"We are calling for a speedy government formation because this is in the country's interest and because there are major files that need to be addressed and the all the developments in the region are in our favor," Nasrallah added.
Nasrallah reveaed that Hezbollah  has appointed MP Hassan Fadlallah as its pointman for the file of combating corruption.