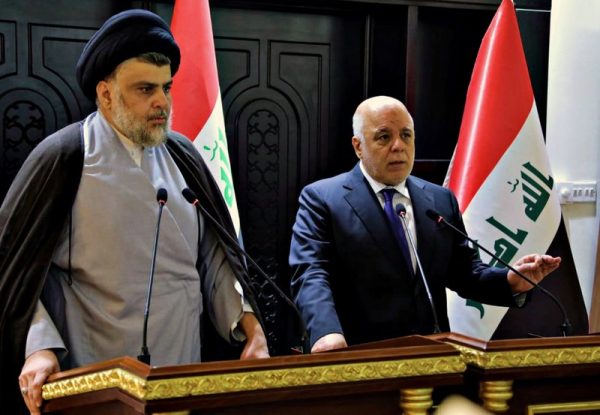 Shiite cleric Muqtada al-Sadr, whose coalition won the largest number of seats in Iraq's parliamentary elections, has sought to reassure Iraqis about their next government, saying it will be "inclusive" and mindful of their needs.
No single bloc won a majority in the May 12 vote, raising the prospect of weeks or even months of negotiations to agree on a government. Major political players began talks soon after the election's partial results were announced last week.
The latest round was held Sunday between al-Sadr and Hadi al-Amiri, the leader of a coalition of Shiite paramilitary forces backed by both the government and neighboring Iran.
Late on Saturday night, he met Prime Minister Haider al-Abadi, whose bloc made a surprisingly poor showing in the election, finishing third behind the blocs led by al-Sadr and al-Amiri.
Speaking after his talks with al-Abadi, al-Sadr said the first postelection meeting between the two "sends a clear and comforting message to the Iraqi people: Your government will take care of you and will be inclusive, we will not exclude anyone. We will work toward reform and prosperity."
He did not elaborate, or provide details about what he and al-Abadi discussed.
Al-Sadr told al-Amiri in their meeting that he wanted a government formed quickly to provide Iraqis with services and "express their legitimate aspirations," according to a statement issued by his office.
Al-Amiri, a close ally of Iran, played a key role in the two-year war to liberate Iraqi territory captured by the extremist Islamic State group in 2013 and 2014. His Badr militia is among the better armed and more disciplined paramilitary outfits. Badr was founded in exile in the 1980s during the rule of Saddam Hussein. It fought on Iran's side in a 1980-88 war against Iraq.
Al-Sadr, whose followers fought U.S. forces in Iraq after the 2003 invasion, won 54 of the chamber's 329 seats. Al-Abadi's "Victory" bloc took 42 and the coalition of paramilitary forces came in second with 47 seats.
Iran reportedly is trying to prevent Sadr's  bloc from governing.Iranian Major General Qassem Soleimani, commander of foreign operations for Iran's elite Revolutionary Guards and a highly influential figure in Iraq, has been holding talks with politicians in Baghdad to promote the formation of a new cabinet which would have Iran's approval.
AP