Aoun calls for formation of a national unity cabinet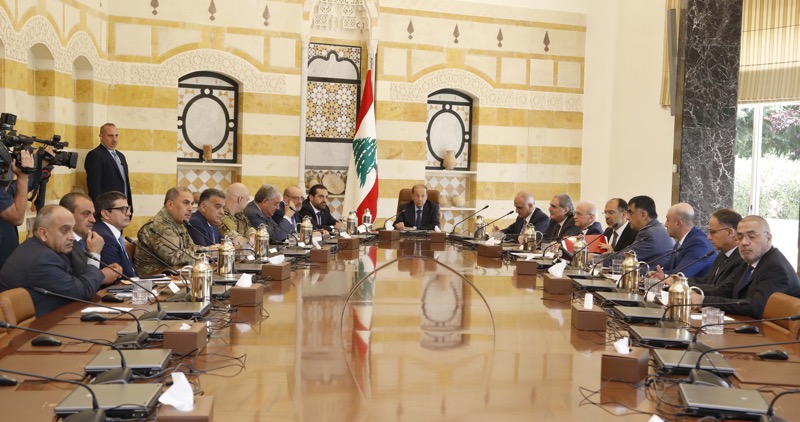 President Michel Aoun said Friday that he will seek the formation of a new national unity Cabinet, which will focus on combating corruption and prop up the economy.
"Lebanon is determined to reach swift solutions for the challenges the country faces; thus a change in our approach will be a part of our actions, which will be highlighted in the Cabinet's first agenda," Aoun said following a meeting with the director of North African and Middle East Affairs at the French Foreign Ministry, Jerome Bonnafon.
Aoun later reaffirmed his commitment to the UN Security Council's 1701 resolution, which brought to an end the devastating 2006 war between Hezbollah and Israel,
"This resolution has been breached multiple times by Israel on all land, sea, and air, signifying the country's disrespect of the international community's will to maintain peace on Lebanon's southern border," he added.
Following his meeting with Bonnafon, Aoun held talks with Prime Minister Saad Hariri, before chairing a meeting of the higher defense council.
Hariri is expected to be nominated once again as prime minister after the newly elected parliament elects a speaker next week following the end of the tenure of the current legislature on May 21.
Negotiations over the elections of a new Cabinet are expected to stall as no party has won a clear majority in parliament.
The Lebanese Forces (LF) party, which almost doubled its number of MPs in the May 6 election, expects to convert those gains into more power in a new coalition government under Hariri, LF leader Samir Geagea told Reuters in an interview on Friday.
Geagea said it would "no doubt" be difficult to form the new government which will include the heavily armed, Iranian-backed group Hezbollah.
The LF is a staunch opponent of Hezbollah, the Shiite group that has propelled Aoun to the presidency.
Hezbollah and its allies  secured a majority in Lebanon's new parliament, a reversal from 2009 when the anti-Hezbollah March 14-led coalition secured the majority .
A senior Hezbollah official on Sunday accused Saudi Arabia of seeking to keep his group out of the new Lebanese government.
"Saudi Arabia's declared and undeclared wish is to see Hezbollah outside the new Lebanese government, but the coming days will prove that the Saudi regime will not  be  able to prevent Hezbollah  from joining the government with proactive ministers," Hezbollah Central Council member Sheikh Nabil Qaouq said.
An Nahar