Iraq: Sadr, Hakim keen to form an independent government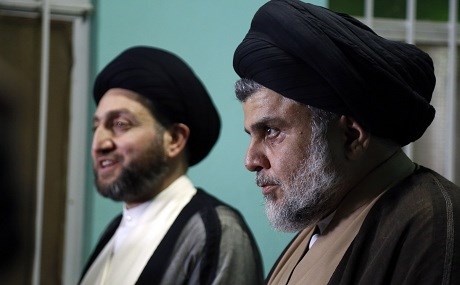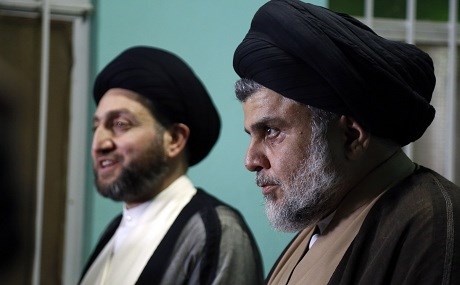 In what was seen as a surprise move by many observers, prominent Shiite Iraqi leaders Moqtada al-Sadr and Ammar al-Hakim announced that they will join forces to form the largest bloc in the country's parliament.
Sadr, head of the Sairoun bloc, emerged as the shock winner in the weekend's Iraqi parliamentary elections. Preliminary results showed that Hakim, head of the Hikma movement, won 22 seats.
By forging an alliance, Sadr and Hakim will propose that a new prime minister be appointed from their new bloc. Political powers need 165 seats out of 329 to form the largest bloc in parliament, which will allow them to form a new government.
During a joint press conference in the city of Najaf on Thursday, Sadr and Hakim said that they will launch efforts to establish such a bloc and fend off rivals, most notably Iranian backed former PM Nouri al-Maliki and Hadi al-Ameri's Fatah alliance.
Hakim stressed that the alliance with Sadr will form a national unity government that will serve the Iraqi people.
Sadr, for his part, announced: "We are heading towards a new phase to reconstruct Iraq and form a technocratic government."
Preliminary elections results showed that Sadr's bloc won 55 seats, Prime Minister Haidar al-Abadi won 51, Ameri won 49, Hakim 22 and Maliki 25. The Kurdish Democratic Party of Masoud Barzani won 28 seats, Kosrat Rasoul of the Patriotic Union of Kurdistan won 15 and former Iraqi Vice President Iyad Allawi 21.
An alliance between Sadr, Hakim, Abadi and Sunni and Kurdish parties could obtain a comfortable majority to form a new government.
Political observers already believe that Sadr and Hakim's announcement will be supported by Sunnis and some Kurdish forces.
Ash Sharq Al Awsat