What's behind the latest military action?
US President Donald Trump's abandonment on Tuesday of a landmark international deal to curb Iran's nuclear programme – an agreement fiercely opposed by Mr Netanyahu – has certainly raised tensions.
But Israel had already become increasingly worried about Iran's military support of Syria. Mr Netanyahu said the Revolutionary Guards had moved advanced weapons to Syria, including surface-to-surface missiles and anti-aircraft batteries that would threaten Israeli fighter jets.
Israel's military had been anticipating an attack by Iranian forces after reportedly carrying out a number of strikes on their facilities in Syria in recent months.
They included one on an airbase in April that killed seven Iranian troops.
How will Iran sanctions affect business?
The deal lifted sanctions on Iran from 2015, allowing some big names – Boeing, Airbus, Total and Peugeot – to start doing business again.
The IDF has struck dozens of Iranian military targets in Syria in response to the Iranian rocket attack against Israel. Quds force is behind attack and has played the initial price. IDF remains ready for various scenarios but does not seek to escalate the situation. pic.twitter.com/4rC8gHK2LG

— Jonathan Conricus (@LTCJonathan) May 10, 2018
The re-imposition of sanctions has thrown all that into doubt. US firms have six months to stop trading with Iran. European companies, for instance Airbus, are affected too as they buy parts from the US.
The sanctions issue has added to tensions between the US and its European allies over the nuclear deal. French Foreign Minister Jean-Yves Le Drian says European companies should not have to pay for the US decision.
The economy of Iran, a big exporter of oil and gas, is likely to be adversely affected.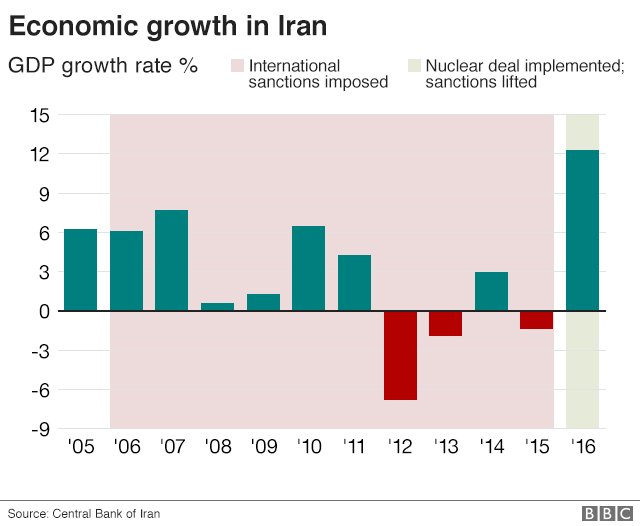 (BBC)